Click for Free
Calendar
Event Submission
---
Click here for your



basic Portal listing!
---

---
FIRST CHOICE SHUTTERS
& BLINDS





Serving South-Central Texas
Quality window treatments
Plantation shutters, blinds, screens, shades
Wood and faux wood available
Made in America

Locally owned & operated:
Tim & Barbara Van Tassel
830-201-2151
timgvant@hotmail.com
Johnson City, TX
Call, email or text with questions or to arrange a no-obligation visit and quotation at your place.
Facebook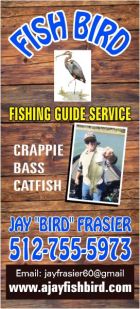 ---
Carport & Tent Spot Rentals In Rural Kerrville During Eclipse
---
COFRAN'S PC &
TECHNOLOGY HELP
- - -
Online, Remote
Tech Support &
Call-In Help Desk

Virus? Frustrated?
PC slowed down?
We can tune it up!
Internet, Wi-Fi,
Websites,
Email, Outlook,
Social Media,
Tech Marketing,
Excel, Quickbooks,
Zoom, TeamViewer,
Carbonite
** PC Repairs **

BSEE, MBA, xCPA
Veteran, Tech Officer

281-300-7177
Johnson City
info@cofran.com
www.cofran.com
---
"The Web Guy"
WEB SITE DESIGN
& MAINTENANCE
Economical
& Effective
281-300-7177
Johnson City, TX
info@cofran.com
cofran.com


---

"Business Coach"

COST CONTROLS,
EFFICIENCY &
BETTER STRATEGIES
= MORE PROFIT !!

Economical
& Effective

281-300-7177
Johnson City, TX

info@cofran.com
cofran.com


---
---

---
Cofran's Texas . . .
Hill Country Portal
A Powerful Information Database & Gateway Service for the Texas Hill Country
Use above MENU To Find "All Things In The Texas Hill Country"

Focus Topic Profile For:
HILL COUNTRY HISTORIC MILITARY FORTS
While there are no active military bases in the Texas Hill Country, we have a long history of military activity and installations, most of which are accessible for your visitation. There are a number of active military bases very near the Hill Country. In the early days of settling what was to become the Texas Hill Country, military forts were established to protect the pioneers from the Indians. Several of these forts remain as treasures for us to explore and interpret in understanding the hardships of frontier life.
Fort Mason and Fort McKavett are included in the Texas Forts Trail:
texasfortstrail.com
Be sure to also see the Admiral Nimitz State Historic Site & National Museum Of The Pacific War in Fredericksburg, at
Nimitz
. Contains a massive collection of WWII artifacts arranged in a time-line format with accompanying audio effects and narratives.
We welcome inquiries, comments and submission of updates, additions, corrections & digital photos,
without compensation. Send to Editor at:
editor@HillCountryPortal.com
QUICK INDEX TO CATEGORIES (
click choice)
FORTS LISTED BY FORT NAME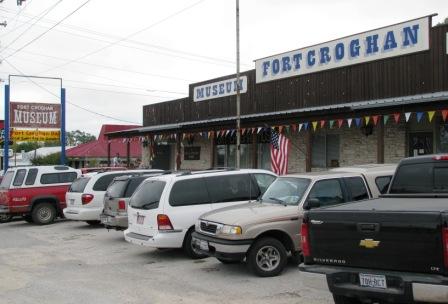 FORT CROGHAN:
512-756-8281; at 703 Buchanan Dr (TX 29 W),
Burnet
, TX 78611.
fortcroghan.org
.
info@fortcroghan.org
. Established in 1849, Fort Croghan was the third of the first four forts established by the US government to protect settlements from hostile Indians. From 1849 until its decommission in 1853, Fort Croghan was the home to Company C, 8th Inf, USA. (mounted) and eventually became the headquarters of the Second Dragoon Regiment. Today's Fort Croghan is representative of those early days of what was to become Burnet. See the sights and imagine the sounds of the frontier as you visit the blacksmith's shop, the one room school house, the powder house or the stage coach stop. The museum has over 1200 historic artifacts from in and around the Burnet County area. Visit the Texas frontier as it once was. Admission is free. Donations accepted. Open April through August, Thur-Sat, 10a-5p. Group tours, call for reservation.
Map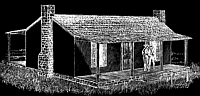 FORT MARTIN SCOTT:
830-997-7521; 1606 E Main St,
Fredericksburg
, TX 78624. Located 2 mi SE of town on US 290 East. On display are artifacts, documents, and fascinating details about trade in bear grease, sugar, rice, and coffee. Showcases many historical events during the year, but the favorite is the Pow Wow which has a virtual kaleidoscope of brilliant colors and native regalia. The first frontier fort in Texas, and an active US Army pre-Civil War outpost from 1848 to 1853. Soldiers were trained here, and it supported troops on scouting and patrol missions in the area. Offers living history lessons in the lives of settlers and soldiers during the 1850s. Self-guided tours with assistance of kiosk signage. Self-guided, open 24x7, free. Owned and operated by the City. Managed by Gillespie County Historical Society.
ftmartinscott.org
,
geocities.com/dwastwood/fort_martin_scott.html
Friends of Ft Martin Scott: 830-997-9895.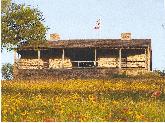 FORT MASON:
325-347-5758; 204 W Spruce St,
Mason
, TX 76856. Located on top of "Post Hill", just blocks from the Courthouse Square. Established in 1851 as part of a line of army forts from the Rio Grande to the Red River to open new areas and provide protection for settlers. A training ground for generals. Was Robert E. Lee's last command post in US Army. During the Civil War, the Confederacy controlled the fort, but it remained virtually unmanned. Families often sought shelter and protection within its walls during frequent Indian raids. Visitors can explore the reproduced officers' quarters that includes 3 rooms furnished as in 1861 and a display room full of interesting history on the Fort. Self-guided, open 24/7, free. Included in the Texas Forts Trail.
Map
.
Web1
;
Web2
;
Web3
FORT MCKAVETT STATE HISTORICAL SITE:
325-396-2358; On 7066 FM 864, Ft McKavett, TX 76841. An 82 acre park facility 22 mi SW of
Menard
on W edge of Menard County, governed by the State Historical Commission. Open daily to the public, 8a-5p. Established in 1852. General William T. Sherman called Fort McKavett "the prettiest post in Texas", 1874. Part of a chain of military posts designed to control the native population and protect immigrants and settlers traveling the road between San Antonio and El Paso. Today it is one of the best preserved and most intact examples of a Texas Indian wars frontier post. Overlooks San Saba river.
Web
. Included in the Texas Forts Trail:
Web
;
visitfortmckavett.com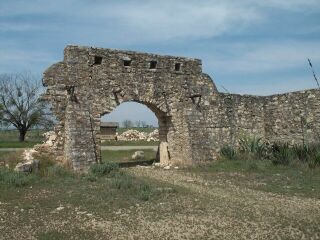 SAN SABA PRESIDIO:
These ruins of a Spanish fort built in 1751 to protect the nearby mission are located 2 mi NW of downtown
Menard
on the San Saba River banks, off Hwy 190, now maintained as a county park. Also known as: "Presidio San Saba"; "Presidio de San Luis de las Amarillas". Open year-round, self-guided tour with exhibit sign.
History
,
Photos
FACTOID: An unsuccessful Spanish mission, San Lorenzo de la Santa Cruz, was established by Franciscans in
Camp Wood
in 1762, and in 1857 a U.S. Army post was founded, from which the present-day active community took its name. See history and photos in more detail about the US Calvary and the Texas Rangers at the Camp Wood Texas Sesquicentennial Minute:
History & Audio
HISTORIC FORTS VERY NEAR THE HILL COUNTRY
CAMP SABINAL:
1 mi W of Sabinal, Hwy 90, S of Utopia. Handbook of Texas
Profile
:
". on the west bank of the Sabinal River . . was established by Capt. Albert G. Brackett on July 12, 1856, to provide protection for commercial traffic and travelers from San Antonio to El Paso. Among the people to settle nearby were John Kenedy, who built a store near the camp, Louis Peter, and Peter Rheiner, future father-in-law of Vice President John Nance Garner. Remnants of structures built by these settlers were still in evidence when the Texas Centennial Commission placed a marker at the site in 1936. By the summer of 1856 the Second United States Cavalry, commanded by Col. Albert S. Johnston and stationed at Fort Mason, was the lone mounted unit left in Texas. Johnston distributed the six companies under his command to different outposts along the Texas frontier; Company I was assigned to Camp Sabinal. The fort was occupied by United States troops until November 1856, and later served as a Texas Ranger camp. The Second Cavalry and Company I were under the command of Robert E. Lee for three months in late 1857 and again near the end of 1860."
FORT CLARK:
Fort Clark, located on US Hwy 90 on the E side of Brackettville, was established June 20, 1852 at Las Moras Springs.
Handbook Of Texas:
Ft Clark Profile
; Fort Tours:
Ft Clark Profile
FORT INGE:
Located 1.5 mi SE of
Uvalde
, in
Uvalde County
.
Summary from Wikipedia (
en.wikipedia.org/wiki/Fort_Inge
): It was a frontier fort established as Camp Leona on March 13, 1849. The fort served as a base for troops assigned to protect the southern overland mail route from Indian raids. The camp was renamed Fort Inge in honor of Lieutenant Zebulon M. P. Inge, a West Point officer killed in the Mexican-American War. There were two wooden barracks with thatched roofs that quartered the soldiers assigned to the fort. There was also a large limestone building that served as commissary and later a hospital. The fort was surrounded on three sides by a stacked stone wall added sometime around the Civil War. The wall was dismantled in 1874 and the stone used to build a dam on the Leona River. The wall was re-laid along its original lines in 1984.
Jerome Napoleon Bonaparte II was posted to Fort Inge in the early 1850s, and his letters from there are preserved by the Maryland Historical Society.
The United States Army garrisoned the fort until March 19, 1869, when the garrison was transferred to Fort McKavett (see above). The army recovered materials from the site to use for additions to nearby Fort Clark (see above). Fort Inge then saw use as a camp by the Texas Rangers until 1884.
In 1961, the site became the Fort Inge Historical Site County Park. It was added to the National Register of Historic Places on September 12, 1985. The site is located on the Leona River and is dominated by the 140-foot (43 m) high remains of an extinct volcano named Mount Inge.
Open weekends only.
Coordinates: 29° 10' 45" N, 99° 45' 57" W; 29.17917° N 99.76583° W
Handbook Of Texas:
Profile
; Fort Wiki:
fortwiki.com/Fort_Inge
; US Forting:
Ft Inge Profile
;
Uvalde History
ACTIVE MILITARY INSTALLATIONS VERY NEAR THE HILL COUNTRY
There are no active military installations in the Hill Country, but there are many very nearby.
Some of these include:
ARMY:
Fort Hood
(Killeen), Largest US military installation,
Profile
Camp Bullis
(San Antonio),
Profile
AIR FORCE:
Brooks City-Base
(San Antonio); formerly a military post, now locally owned and operated.
Profile
Lackland AFB
(San Antonio),
Profile
Randolf AFB
(San Antonio),
Profile
TEXAS MILITARY FORCES:
Camp Mabry
(Austin); US National Registry of Historic Places,
Profile
OTHER FORT RESOURCES

FORT TOURS:
forttours.com
TEXAS FORTS TRAIL:
texasfortstrail.com
(THE) TEXAS OLD MISSIONS & FORTS RESTORATION ASSOCIATION (TOMFRA):
tomfra.org
US FORTING:
usforting.com
MILITARY RESOURCES
See more details on military resources in our Portal Focus Topic page on Hill Country Veterans Guide













SANDY ROAD GUEST HAUS: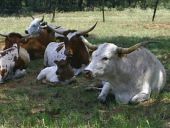 Upscale Western-style Guest House Lodging
in a Beautiful Ranch Setting in the Gorgeous Texas Hill Country

Reservations & Information: 281-300-7177
9242 RR 1320 (Sandy Road), Johnson City, TX 78636

Web: SandyRoadGuestHaus.com Email: info@SandyRoadGuestHaus.com

Come Relax & Enjoy!


---
---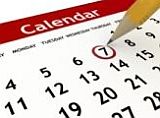 Click
for Hill Country:
»
ACTIVITIES
»
ATTRACTIONS
»
ADVENTURES
»
MARKET DAYS
»
MAPS
---

---
Check us out on


---

---

---
Texas Walks . .
What's Raised Here,
Stays Here! 100% local!!
5 locations in
Central Texas
September and October.
Corporate sponsorship
& team/individual
registrations now available.
---
---
Affordable Pre-paid Emergency Air Transport Service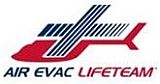 Click image for details
Protection starts at $65/yr
---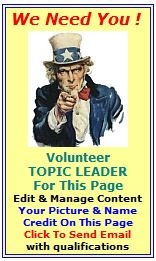 ---

Protect Your Computer Files With


On-Line storage
of your data.

Easy!

Just click
to get started.


---
---

---