Click for Free
Calendar
Event Submission
---
Click here for your



basic Portal listing!
---

---
Top Tourist
Attractions
to See in Texas
---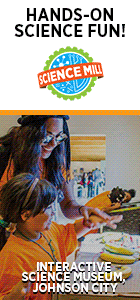 FIRST CHOICE SHUTTERS
& BLINDS





Serving South-Central Texas
Quality window treatments
Plantation shutters, blinds, screens, shades
Wood and faux wood available
Made in America

Locally owned & operated:
Tim & Barbara Van Tassel
830-201-2151
timgvant@hotmail.com
Johnson City, TX
Call, email or text with questions or to arrange a no-obligation visit and quotation at your place.
Facebook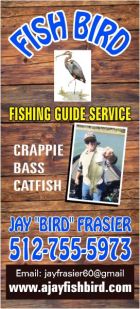 ---
Carport & Tent Spot Rentals In Rural Kerrville During Eclipse
---
COFRAN'S PC &
TECHNOLOGY HELP
- - -
Online, Remote
Tech Support &
Call-In Help Desk

Virus? Frustrated?
PC slowed down?
We can tune it up!
Internet, Wi-Fi,
Websites,
Email, Outlook,
Social Media,
Tech Marketing,
Excel, Quickbooks,
Zoom, TeamViewer,
Carbonite
** PC Repairs **

BSEE, MBA, xCPA
Veteran, Tech Officer

281-300-7177
Johnson City
info@cofran.com
www.cofran.com
---
"The Web Guy"
WEB SITE DESIGN
& MAINTENANCE
Economical
& Effective
281-300-7177
Johnson City, TX
info@cofran.com
cofran.com


---

"Business Coach"

COST CONTROLS,
EFFICIENCY &
BETTER STRATEGIES
= MORE PROFIT !!

Economical
& Effective

281-300-7177
Johnson City, TX

info@cofran.com
cofran.com


---
---

---
Cofran's Texas . . .
Hill Country Portal
A Powerful Information Database & Gateway Service for the Texas Hill Country
Use above MENU To Find "All Things In The Texas Hill Country"

Focus Topic Profile For:
ATTRACTIONS IN THE TEXAS HILL COUNTRY
The Texas Hill Country is a wonderland of natural and man-made attractions and points of interest. Plenty to keep a visitor thrilled and ready to come back. No reason to go to Europe or take a long, uncomfortable and expensive international flight elsewhere. We have the best attractions right here. Even the New York Times in a recent article (6/1/08 Travel Section, see
nytimes.com
) rated the Texas Hill Country as the #1 destination for US tourist summer travel.
We even have some authentic international flare with the heavy German influence on much of the Hill Country and the surprising resemblance of our countryside to that found in Germany.
Listed below is a sampling of what we have to offer tourists. Be sure to check the individual city and county pages in this Portal site for more venues and details. To view these profiles, just click the city name at the beginning of each city section.
HILL COUNTRY AREA SPECIALTIES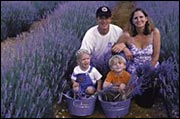 HILL COUNTRY LAVENDER FARMS:
With dozens of Lavender farms now in the Hill Country there is much to see. On Saturdays during blooming season, which usually lasts from mid-May until the end of June, many of the farms are open to the public. In addition, visitors can buy such items as dried lavender buds, lavender plants, lavender books, sachets and soap. Click:
Lavender
HILL COUNTRY WILDFLOWERS:
The Texas Hill Country is renowned worldwide for its annual wildflower display. Click:
Wildflowers
HILL COUNTRY WINERIES:
The Hill Country is becoming more and more well known for their wine production and local wineries helping Texas become fifth on the nation's list of top wine producers with a large choice of wines to offer.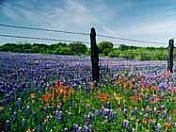 Visit the many wonderful local vineyards located in the Texas Hill Country. Experience exquisite wines right here in the Lone Star state! Wineries host tasting of newly released wines during the year along with wine and food pairings, seminars, demonstrations and tours. Come and meet the vintners as you tour and taste. Dates of Trail Events may include February - Wine Lover's Trails, April - Wine & Wildflower Trail, August - Harvest Wine Trail, October - Texas Wine Month Passport Trail and December - Holiday Wine Trail. Click:
Wineries
RIVER TUBING & PADDLING:
Experience the thrills of tubing and paddling on the our many fun Hill Country rivers. Outfitters on the Guadalupe, Comal and other rivers are ready and waiting to provide you with rental of everything you need for your river adventure.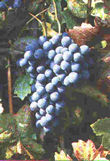 Most provide parking and shuttle transportation as well. Many companies provide some or all of the typical services: rental of tubes, rafts, canoes, kayaks, lodging, camping, RV sites, swimming, fishing, camp stores & accessories, restaurant services, and bars & entertainment. Click:
Tubing & Paddling
HILL COUNTRY PARKS, LAKES, FORTS & RIVERS:
Click:
More
HILL COUNTRY PEACHES:
Gillespie County produces 40% of all the peaches grown in the state of Texas. Roadside stands line many of the roads leading into Fredericksburg with major concentration along Hwy 290 between Fredericksburg and Stonewall. The peach season runs from mid-May through the first week of August in a normal year. Several orchards offer pick-your-own. Click:
Peaches
HILL COUNTRY SCENIC RIDES:
Whether by car, bicycle, motorcycle or horseback, the Hill Country offers a panoramic opportunity to see the rolling hills, rivers and attractions in this beautiful area. Check out our Portal focus pages:
Horseback Riding
; and
Motorcycle Riding
HILL COUNTRY DUDE RANCHES:
World renowned, authentic dude ranches are right here, centered in Bandera, but also scattered throughout, we consider them a "natural resource":
Dude Ranches
HILL COUNTRY GOLF COURSES:
We have a huge selection of beautiful local and championship level courses throughout the Hill Country. Check them out:
Golf
HILL COUNTRY ADVENTURES:
For the fun and adventure spirited folks, there is a wide variety of action-oriented adventure venues and services throughout the Hill Country. See our focus page at:
Adventures
QUICK CLICK INDEX BY CITY IN TEXAS HILL COUNTRY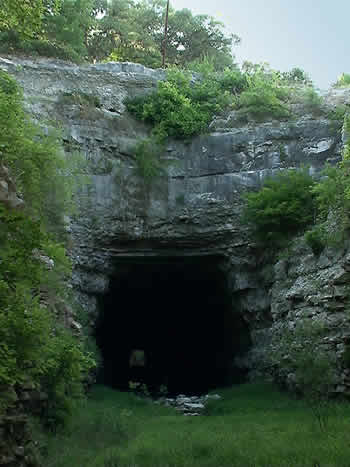 ALAMO SPRINGS CAFE:
Award-wining country cafe known in particular for their delicious burgers.
OLD TUNNEL WILDLIFE MANAGEMENT AREA & BAT ROOST:
A tiny state park with a spectacular bat cave & huge bat entry/exit show.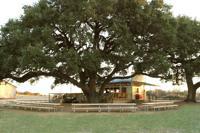 ALBERT TEXAS ICE HOUSE & BEER GARDEN:
Popular with locals for great music, cold beer, dancing, and a table arrangement under one of the largest oak trees in Texas. A frequent hangout for motorcyclists and locals.
ALBERT TEXAS HISTORIC DANCE HALL:
Restored historic dance hall, active again with live dancing and venue events.
WILLIAMS CREEK SCHOOL HOUSE & COMMUNITY CENTER:
Restored historic school house attended by LBJ in 1921; now serving as an active community center. Tours available.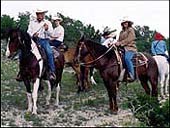 COWBOY CAPITAL:
Bandera goes all out with rodeos, cowboy festivals & prolific events. There are and even cowboy actors on the downtown streets dressed as they did in the old dusty days (complete with six-shooters and real horses), who mingle with the visitors on the streets and in the saloons and venues. And longhorn cattle also in the streets that you can ride. With the saloons, live entertainment and open concept, this town is so much fun that it is very popular with motorcyclists and every tourist. Ye-Haa!
DUDE RANCHES & HORSEBACK RIDING:
Hitch a hayride to breakfast, rustle up some grub and live the cowboy life. See full list at
Dude
, and
Horse Riding
GOLF COURSES:
Flying L Golf Course. See
Golf
FRONTIER TIMES MUSEUM:
830-796-3864;
frontiertimesmuseum.com
. Artifacts, history, and fun events.
OUTDOOR RECREATION:
See our Portal focus pages on:
Hunting & Fishing
,
Tubing & Paddling
,
Motorcycling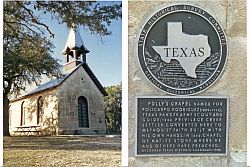 POLLY'S CHAPEL:
Built in 1882 by Jose Policarpo Rodriguez, this picturesque church still stands in the tree-covered hills of Bandera County on Privilege Creek. Rodriguez, known as "Polly," was born in Mexico and came to Texas with his father as a child. He became famous as a scout for the US Army, a guide, a hunter and a minister. He joined the Methodist Church and was licensed as a Methodist preacher. He built this tiny chapel with his own hands. A short distance from the chapel is a well-tended graveyard where Polly is buried. Chapel usually open. Off TX-16 about 6 mi SE of town.
Texas State Park - Hill Country State Natural Area: A truly beautiful, hilly area, with lots of fun events such as trail riding on horseback, hikiing, camping, star gazing and more. Don't miss it!
Scenic Drives:
On all the roads around beautiful Bandera there are excellent views.
HUNTING, FISHING:
See
Portal
"TWISTED SISTERS" SCENIC DRIVES & MOTORCYCLE ROUTES:
RM-337, RM-335, RM-336. The Sisters travel about 96 mi through massive timbered hills, steep cliffs, secluded valleys and streams. "One of the fifteen most scenic spots in Texas" (Texas Highways, Nov 1998).
Article
GOLF COURSES:
Falconhead; Spanish Oaks
HILL COUNTRY GALLERIA:
A very large, popular, modern shopping center with hundreds of retail locations.
HAMILTON POOL:
Just W of Bee Cave on FM-962 E (Hamilton Pool Rd), a natural deep water pool that is part of the Travis County Park System. Open daily from 10a-6p, offers swimming, hiking, biking and picnic facilities.
co.travis.tx.us/tnr/parks
MILTON REIMERS RANCH PARK:
Just W of Bee Cave on FM-962 E (Hamilton Pool Rd), this pristine parkland, open space and reserve land with almost 3 miles of continuous frontage along the Pedernales River is the largest parkland acquisition in the history of Travis County and is a popular destination for mountain bikers, rock climbers and fishermen. See
Parks
WESTCAVE PRESERVE:
Just W of Bee Cave on FM-962 E (Hamilton Pool Rd), a limestone-walled canyon with many rare and endangered plants. On Hamilton Pool Rd.
westcave.org
and see
Parks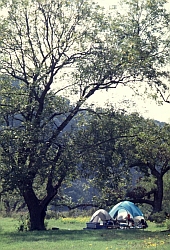 ALAMOSA WINE CELLARS:
COLORADO BEND STATE PARK:
Includes famous Gorman Falls
BERGHEIM GENERAL STORE & HISTORIC POST OFFICE:
Popular for years with the locals and visitors alike for its "old time" atmosphere, interesting items and friendly folks.
GUADALUPE RIVER TUBING & PADDLING:
See our focus page at
Tubing & Paddling
SERENGETI RESORT:
The heart of Africa in the Texas Hill Country
EDGE FALLS:
A significant water falls (dependent on local rainfall) on the Guadalupe River.
Photo
and satellite
Views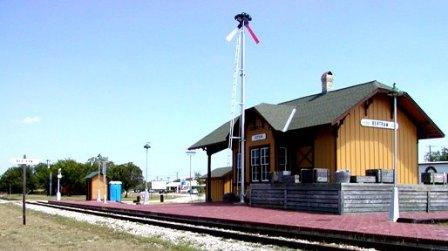 BERTRAM TRAIN DEPOT:
Restored 1912 depot, open to the public.
AUSTIN STEAM TRAIN ASSOCIATION TRAIN RIDES:
Historic railroad operates vintage passenger cars pulled by a diesel Engine.
HISTORIC GLOBE THEATRE:
Restored and now active with live events.
OATMEAL FESTIVAL:
Annual event began in 1977 as a spoof of the large number of chili festivals held by small towns attempting to attract visitors. Bertram had been left off the map by the state map-makers, so the good-natured townspeople created this humorous way to get back on the map! It has stood the test of time and is now strongly rooted.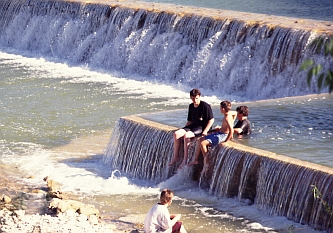 BLANCO HISTORIC TOWN SQUARE:
Small town charm, historic courthouse, plus numerous shops and restaurants.
BLANCO STATE PARK:
Located just blocks from the Square, offers camping, river swimming and fishing. See
Parks
BUGGY BARN MUSEUM:
Home of Pine-Moore town. Unusual wagons, carriages & buggies dating from 1860s to early 1900s. Historical exhibits.
LAVENDER FESTIVAL & FARMS:
830-833-5101; Lavender Capital of Texas. Annual festival. Farm visitation available mid-May-July; See events below, and
Lavender
OLD BLANCO COUNTY COURTHOUSE:
830-833-2211; First court house of Blanco County, built in 1885, a Texas Historical landmark, open for visitation in downtown Blanco. It survives as an outstanding example of Second Empire style architecture.
historicblanco.org
REAL ALE BREWING COMPANY:
830-833-2211; Local micro-brewed beer with a rapidly growing popularity. Open tasting room every Friday 2-5p. Tour at 4p.
realalebrewing.com
BLUFFTON IS A QUITE RESIDENTIAL AREA ON LAKE BUCHANAN:
See nearby Tow, and Lake Buchanan and Inks Lake area.
LAKE BUCHANAN & INKS LAKE RECREATION
PROXIMITY TO ALL OF THE HIGHLAND LAKES AND MANY PARKS IN THE REGION
AGRICULTURAL HERITAGE CENTER:
830-249-6007; 102 City Park Rd, Boerne, TX 78006. (Just off of Hwy 46, next to Herff park and the Kendall County Fair Grounds). A non-profit organization established in 1986 to preserve the historic farming implements, tools and artifacts used in the Hill Country, for tomorrow's generations to learn from and enjoy. Open Sat from 10a-4p and by appointment.
agmuseum.org
CASCADE CAVERNS:
830-755-2400; IH-10 exit # 543, 226 Cascade Caverns Rd, Boerne, TX 78015. A 105 acre park. Enjoy the cool comfort of 68 degree year round temperatures as you wonder through underground pathways, huge cavern rooms and soaring cavern walls. Texas' only cavern with a 100' waterfall. Open Year Round. An award winning natural attraction. Web:
cascadecaverns.com
CAVE WITHOUT A NAME:
888-839-2283; 325 Kreutzberg Rd, Boerne, TX 78006. A natural living cavern filled with spectacular formations. Tour the 6 rooms in constant 66 degree comfort. Gallery, tours, adventure. Web:
cavewithoutaname.com
CIBOLO NATURE CENTER:
830-249-4616; A 100 acre center located at 140 City Park Rd, Boerne, TX 78006; Hiking trails are laid out to bring the visitor through four dramatically distinct eco-systems. The creek, marshland, meadow and woods each have a unique charm, and each has its owns et of plant and animal life to observe. Named one of the top ten hikes in Texas by Texas Monthly Magazine. Educational center and bookstore in a restored historic building.
cibolo.org
ENCHANTED SPRINGS RANCH:
800-640-5917; 242 TX-46 W, Boerne, TX 78006. This 86 acre working ranch excites visitors with its rugged, natural beauty, collection of exotic animals, and authentic time warp - a Western town right out of the 1800's. Originally designed for Western movies, this old west town has 30 buildings and has already been used in several TV films and commercials. Tours, lodging, weddings, private parties, gift shop, chuck wagon dinner shows, wild west days, cowboy Christmas. Daily visitors welcome. Web:
enchantedspringsranch.com
HISTORIC DOWNTOWN BOERNE:
Stroll down Hauptstrasse (Main Street) to see the shops, restaurants and architecture from the late 1800s.
(THE CLUBS OF) CORDILLERA RANCH, CORDILLERA RANCH COURSE:
888-667-2624; 808 TX-46 E, Boerne, TX 78006. Private, 18 holes, 7450 yds, par 72. Seven mi from downtown.
clubsofcordilleraranch.com
FAIR OAKS RANCH GOLF & COUNTRY CLUB:
210-582-6720; 7900 Fair Oaks Pkwy, Fair Oaks Ranch, TX 78015. Private, 18 holes, 7000 yds, par 72, 1 mi from Boerne.
TAPATIO SPRINGS GOLF & RESORT CENTER:
830-537-4611; 800-999-3299; 314 Blue Heron Blvd, Boerne, TX 78006. Three 9 hole courses (Lakes, Valley, Ridge), 27 holes total, Golf resort, conference center, luxury gated community.
tapatio.com
BRADY MUNICIPAL GOLF COURSE:
325-597-6010; 200 Brady Country Club Rd, US-87 W, Brady, TX 76825-3774. Public, 9 holes, 2841 yds, par 36. City of Brady owned and managed. A beautiful 9-hole municipal course.
Web
HEART OF TEXAS COUNTRY MUSIC MUSEUM:
Opened in 2000, more than 75 country music artists are honored here, and displays include stage costumes, musical instruments, personal effects, life-size wax figures and more. Open Fri: 2-4p; Sat: 11a-4p; Sun: Noon-5p.
hillbillyhits.com
HEART OF TEXAS HISTORICAL MUSEUM:
325-597-0526; 117 North High Street (at intersection with Main Street) in Brady, one block W of the courthouse square. Early ranch and home exhibits, farm implements, pioneer weapons, vintage photos and memorabilia. Housed in restored county jail, circa 1910, still exhibiting cells and prisoner hardware. Recently the Curtis Field Control Tower, which was located at Curtis Field during World War II, was donated to the museum, restored and dedicated to the 10,000 men and women who trained there and to veterans of all branches of military service from McCulloch County. Once called the "best small town museum in Texas" by the Fort Worth Star Telegram, the museum is open each weekend and for private tours by appointment. Open Fri-Sat 1-5p, Sun 1-4p
MCCULLOCH COUNTY COURTHOUSE:
Built in 1900 in Romanesque Revival style.
(FORMER) MCCULLOCH COUNTY JAIL:
Circa 1910. Houses the Heart of Texas Historical Museum (see below). The three-story structure was constructed in 1910 and served as the county's correctional facility until 1974 when it was deeded to the historical society as a museum.
ROLLIE G. WHITE COMPLEX:
Former Jubilee Racetrack with pari-mutual betting, now closed. Currently serves as a horse training facility. 325-597-0168.
SANTA FE CENTER TRAIN DEPOT:
At Depot and N. Bridge Streets. This restored depot now serves as a restaurant, art gallery and studio.
CALF CREEK:
11 mi SW of Brady, the location of a battle fought in 1831. James Bowie, and ten of his closest friends fought a combined force of Caddo and Lipan Indians along the creek. Estimates vary from 150 to 800 Indians.
PARKS:
see
Parks
BRADY LAKE/RESERVOIR PARK:
325-597-2162; 888-823-8401; City of Brady owned and managed. Lakeside facility with 25 mi of shoreline, includes boat ramps, marina, docks, cabanas, RV hookups, campsites, pavilion, restrooms, showers, volleyball courts, ball fields, sandy beach, store (325-597-1073), fishing, swimming.
Web
RICHARDS PARK:
Reservations: 325-597-2152; US-87 N. City-owned park on Brady Creek that includes RV hookups, showers, rest rooms, primitive campsites, pavilion, baseball fields, soccer fields, and playground area.
STANBURN PARK:
BRIARCLIFF GOLF COURSE:
512-264-1776; Briarcliff, TX. Private, 9 holes. Located on Lake Travis, just N of Lakeway.
briarclifftx.com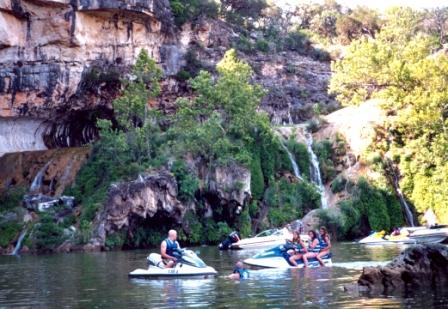 BUCHANAN DAM:
Built by the LCRA in 1939, it is the largest multi-arch dam in the world. Open for visitor viewing. See museum and visitor center below. Part of Highland Lakes area (see
Highland Lakes
)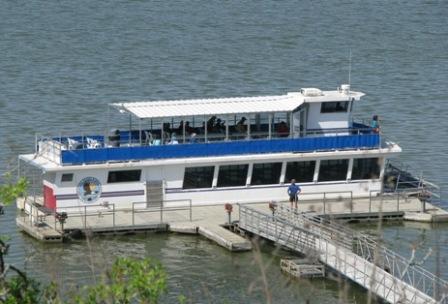 VANISHING TEXAS RIVER CRUISE:
800-474-8374; Originates at N end of Lake Buchanan where tour boat docks at Canyon of the Eagles Park pier (see below). This 2.5 hr tour in an enclosed boat with 2 observation decks allows visitors to see the spectacular wilderness and wildlife (including eagles) along the Canyon of the Colorado River that feeds into the lake.
vtrc.com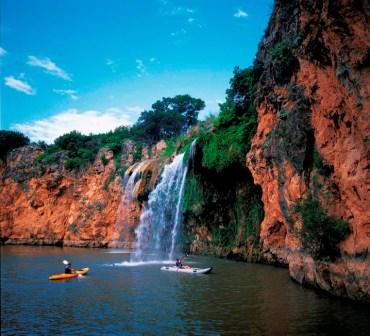 CANYON OF THE EAGLES LODGE & NATURE PARK:
800-977-0081; 16942 RR-2341, Burnet (postal address, but actually much closer to Buchanan Dam). Eagle Eye observatory. Home of Vanishing Texas River Cruise. Conference Center, restaurant, lodging, camping and RV facilities.
canyonoftheeagles.com
; and
Highland Lakes
LOWER COLORADO RIVER AUTHORITY (LCRA) AND STATE PARKS IN THE REGION. See:
Canyon of the Eagles, Black Rock LCRA, Cedar Point LCRA, Inks Lake State Park, and more. See
Parks
HISTORIC DOWNTOWN DISTRICT:
Shops, restaurants, historic buildings
CABELA'S SPORTING GOODS:
An 185,000 sq ft outdoors superstore that features museum-quality dioramas, a 40-foot conservation mountain, 12,000-sq. ft. trophy deer museum, 60,000-gallon aquarium, and hundreds of wild game trophies displayed in an exceptional showroom. Other features include a laser arcade, gift shop, restaurant, general store, fly fishing shop, furniture department, bargain cave, gun library and more. Open Mon-Sat 8a-9p, Sun 10a-8p. At interchange of I-35 and Loop 4.
cabelas.com
JARDINE'S TEXAS FOODS:
512-295-4600; Chisholm Trail; Visitors see food production for authentic Texas recipes like barbecue sauce, salsa, dips, jalapeno jelly and more. Gift shop. Open Mon-Fri 9a-4:30p. Exit 221 (Loop 4) from IH-35 W 1.1 mi. just past the Jardine Ranch sign.
jardinefoods.com
BUDA SPORTSPLEX:
Corner FM-967 and FM-1626
STAGECOACH PARK:
Off of Main Stret about a mi from IH-35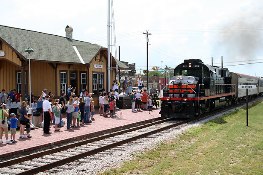 AUSTIN STEAM TRAIN ASSOCIATION'S "HILL COUNTRY FLYER":
512-477-8468; Historic railroad operates vintage passenger cars pulled by A 1960 diesel Alco Engine while the 1916 steam engine is restored. Coach and Lounge car rides available on Sat. Originating in Cedar Park, the excursion goes into the Hill Country to Burnet with a relaxed layover for a picnic or lunch at a restaurant of your choice. Hop aboard in Cedar Park at 10a for a 2 hour ride and return to Cedar Park!
AustinSteamTrain.org
DELAWARE SPRINGS GOLF COURSE:
512-756-8471; 600A Delaware Springs Blvd, US-281 S, Burnet, TX 78611. Public, Municipal, 18 holes, 6819 yds, par 72.
delawaresprings.com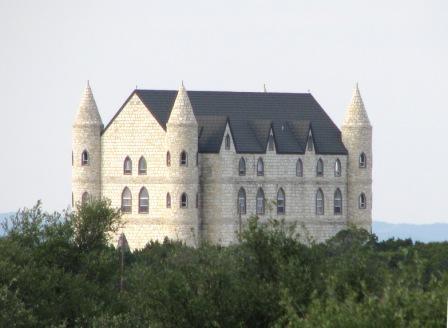 FALKENSTEIN CASTLE:
Castle: Park Road 4, near Kingsland. Ofc: 512-715-0330; 401 Buchanan Dr, Ste #1, Burnet, TX 78611; Located between Burnet and Marble Falls, 5 mi NE of Kingsland, 1 mi W of the famous Longhorn Caverns and just E of Hoover's Valley. A destination wedding castle with lodging and full catering services. Perched high on a hilltop surrounded by 113 acres of Oaks. Private, no tours. Reception Center nearby in Burnet.
falkensteincastle.com
;
FORT CROGHAN:
512-756-8281; at 703 Buchanan Dr (TX-29 W),
Burnet
, TX 78611;
fortcroghan.org
Established in 1849, Fort Croghan was the third of the first four forts established by the US government to protect settlements from hostile Indians.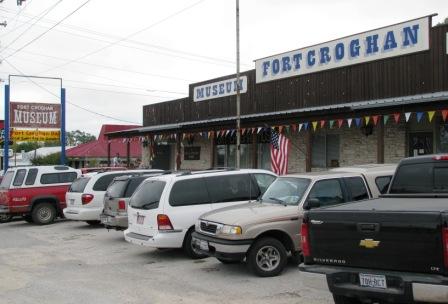 From 1849 until its decommission in 1853, Fort Croghan was the home to Company C, 8th Inf, USA. (mounted) and eventually became the headquarters of the Second Dragoon Regiment. Today's Fort Croghan is representative of those early days of what was to become Burnet. See the sights and imagine the sounds of the frontier as you visit the blacksmith's shop, the one room school house, the powder house or the stage coach stop. The museum has over 1200 historic artifacts from in and around the Burnet County area. Visit the Texas frontier as it once was. Admission is free. Donations accepted. Open April through August, Thur-Sat, 10a-5p. Group tours, call for reservation.
Map
HIGHLAND LAKES AIR MUSEUM:
512-756-2226; At Burnet, TX airport. Operated by the Highland Lakes Squadron of the Commemorative Air Force. Static displays of numerous WWII (and later) aircraft and military vehicles, and wartime memorabilia. Open weekends.
Web
PERISSOS VINEYARD AND WINERY:
512-656-8419; 7214 Park Road 4 W, Burnet, TX 78611. Creating wines of great quality, character and sophistication using 100% Texas-grown fruit. Open Sat & Sun noon-5p. [Ed, 11/1/09: Our visit to this new family owned and run boutique winery was most enjoyable, the hospitality warm, the proprietors energetic and creative, and the new wine very tasty. Give them some time and they should become well known.]. Pronounced: "PEAR-ah-sus". Directions: Take FM 2342 8 mi N from Kingsland or go W from Burnet on TX 16 to Park Road 4, go S to just past the intersection of CR 116 (Hover's Valley Rd) for total of 15 mi. Seth & Laura Martin, proprietors.
perissosvineyards.com
,
CANYON OF THE EAGLES PARK; INKS LAKE STATE PARK, INKS LAKE DAM NATIONAL FISH HATCHERY, AND LONGHORN CAVERN STATE PARK (see Parks).
HAMILTON CREEK PARK:
TX-29, 1 block W of US-281
BURNET COUNTY PARK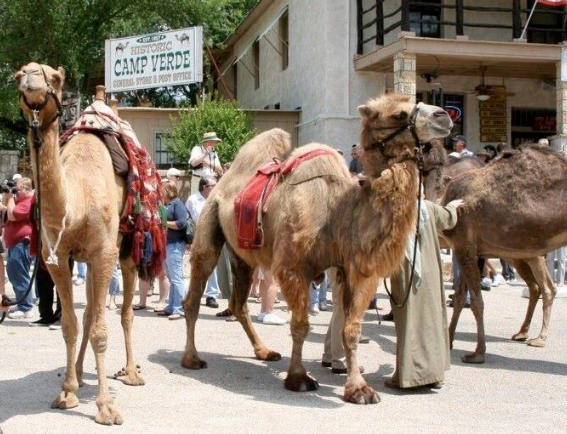 CAMP VERDE GENERAL STORE, CAFE & POST OFFICE:
830-634-7722;
campverdegeneralstore.com
. Located 3 mi from famed Bandera Pass, on the north bank of Verde Creek. The present day, two story, limestone structure of Southern colonial design was constructed after a flood swept away the original building around 1900. "Distinctive products, a feast of choices, something for everyone" with humble beginnings as a supply store for nearby soldiers at Fort Verde. Open 7 days a week. Store. Dining. Patio. Restaurant in connecting building, built in 2012.
TINKER THE FOSSILIZED T REX:
Tinker has found a new home in Camp Wood after originally resting for thousands of years in the Hell Creek Formation of western South Dakota. This fascinating fossil can now be seen by all those interested in pre-history right here.
TWISTED SISTERS SCENIC DRIVES & MOTORCYCLE ROUTE:
RM-337
LINDBERGH PARK:
Named after Charles Lindbergh, the pilot, who landed in the Nueces Canyon in the 1920s. This park is located in the heart of Camp Wood on TX-55 where many local events are held including Old Settler's Reunion under the beautiful old oak trees.
WEST SIDE PARK:
Donated to the City of Camp Wood in the 1980s by the Catholic Archdiocese of San Antonio. The park is located at W end of 2nd Street and has many pieces of equipment for children to enjoy.
LAKE NUECES PARK (WES COOKSEY RV PARK):
830-597-3223; A Uvalde County park on Lake Nueces 3 mi S on TX-55; Scuba, volley ball, boat ramp, basketball, showers, swimming, horseshoes, tent camping.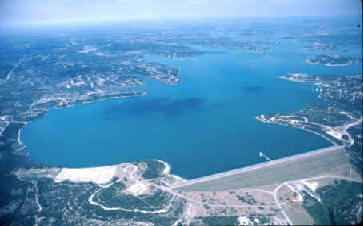 CANYON LAKE:
This lake is the focus of this area as a major location for recreation, boating, water sports, water supply, flood control, and production of electricity. It is a man-made reservoir, and not at a constant level lake.
CANYON LAKE GORGE:
830-964-5424;
canyongorge.org
. The Power of Water! Gigantic 64 acre gorge below Canyon Dam created by the torrential rains of 2002. Dramatic views. Waterfalls, geologic formations, beautiful lagoons, numerous springs and more! Guided tours only
WATER ORIENTED RECREATION DISTRICT OF COMAL COUNTY:
830-907-2300;
wordcc.com
;
info@wordcc.com
; The District begins at the New Braunfels city limits on the east and ends at the boundary of the Guadalupe State Park on the west.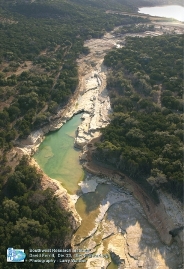 GUADALUPE RIVER TUBING & PADDLING:
See focus page at
Tubing & Paddling
HERITAGE MUSEUM OF THE TEXAS HILL COUNTRY:
830-899-4542;
theheritagemuseum.com
. Displays on: Native American Artifacts, Early Pioneers including Farm Machinery, the Canyon Dam History, Fossils, Gift Shop, open air picnic area, and the Heritage Garden Trail of native Texas plants. Dinosaur tracks are at the same site. Probably the most prolific site in Texas, in terms of number. These tracks were made during the deposition of the upper part of the Glen Rose Formation roughly 100 million years ago.
CANYON LAKE GOLF CLUB:
830-899-3372;
canyonlakegolfclub.com
PARKS AT CANYON LAKE:
Canyon Park, Comal, Cranes Mill, Guadalupe River, Jacob's, North Park, Overlook, Potter's Creek.
CASTELL GENERAL STORE:
325-247-4100; RR-152, Castell, TX 76831; real estate, beer, bait, ammo, feed, groceries, antiques, and kayak rentals. BBQ on Saturdays.
LLANO RIVER:
kayaking and fishing.
DOWNTOWN HISTORIC DISTRICT:
More than 100 structures dating from the 1800s. Shopping; Over 20 B&Bs and lodging places in the area around the district or Guadalupe River.
ANTIQUING:
Known for high quality antiques at dozens of shops. See:
Antiques
BUCKHORN GOLF COURSE (Public):
36 FM-473, Comfort, TX 78013. 830-995-5351
COMFORT CELLARS WINERY:
830-995-3274; 723 Front St, Comfort, TX 78013;
comfortcellars.com
; Hours: Sun-Wed 12-6; Thu-Sat 11-6. Fine wines, unique wines and wine blends. Gift shop and complimentary wine tasting. Directions: 723 Front Street (also known as Hwy 27). I-10 exit 524, Hwy 87 one mile then L on Hwy 27 a 1/4 mile just past Lindner's feed mill.
NUECES TREUE DER UNION MONUMENT:
Burial site that honors 35 men who died at the Battle of the Nueces during the Civil War. One of only 5 sites in the nation where the flag is allowed to be flown at half-staff at all times. See history details below.
SINGING WATERS VINEYARD:
830-995-2246; 316 Mill Dam, Comfort, TX 78013;
singingwatervineyards.com
; Hours: Sat 11-5 Trail Weekends Fri Sat Sunday 12-5. Enjoy a visit to this scenic Hill Country vineyard and winery located up in the hills just south of Comfort on the banks of Bruins Creek. The tasting room, a rebuilt 100 year old Hill Country barn, greets you as you drive up to the winery. Park in the shade or tie your horse up to the old recycled wagon tailgate/sign out in front - and make yourself at home. A tour and tasting in this relaxed country atmosphere is sure to lower your stress level! Bring your picnic lunch and relax on the winery porch with a glass of Singing Water wine.
COMFORT BAT ROOST: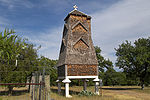 In 1918, Albert Steves erected a "Hygieostatic" bat roost on his family farm in Comfort. This roost was built to attract bats in an effort to control mosquito populations by natural means. The current population is a mix of about 1,000 Cave myotis (Myotis velifer) and Mexican free-tailed bats (Tadarida brasiliensis), though at one time there may have been as many as 10,000. It was originally researched and developed by Dr. Charles Agustus Rosenheimer Campbell of San Antonio. The idea was to use bats against malaria carrying mosquitos. At one time, there were sixteen bat roosts built in the United States and Europe, of which only two sites now remain - one in Comfort and one in the Florida Keys."
History & Details
.
Location:
On the banks of the Guadalupe River in
Comfort
at the private residence of Marshall Steve, the third generation of the family to grow up with a famous bat roost in the backyard. At 29.9704,-98.8849, off FM-473 east of town. Cited in the National Register of Historic Places on March 28, 1983.
THE COMFORT MUSEUM:
830/995-3807; Comfort, TX. By appointment only. Comfort's pioneer days are remembered here in this home for historical artifacts.
COMFORT PARK
JANE KIEHL MEMORIAL PARK:
On Riverbend Rd, off RR-473
FRIO RIVER TUBING & WATER SPORTS
CAMPING & HUNTING
GARNER STATE PARK:
FM-1050 at US-83 South, 8 mi N of Concan. 1420 acres of recreational facilities in northern Uvalde County. 10 water acres along the Frio River. See:
Parks
FRIO BAT CAVE:
Concan, TX. 10-12 million Mexican free-tailed bats ascend at dusk and return at dawn. This is the 2nd largest Bat population in the World and the largest that is open to the public. You may see Cave Swallow, Rock & Canyon Wren, & maybe a Ringed-tail cat or Skunk entering the cave to catch dinner. Be amazed as several species of Raptor dive into the exiting swirl of Bats. This is a maternity cave where the bats return each spring to mate & give birth to their pups. Unfortunately the Bats fly south for the winter & are only here from mid-March thru September. The Bat Guano was mined during the Civil War for Confederate black powder. The rocked furnace pipe used in drying the Guano still sits at the cave entrance. Location: 1st Gate south of Frio River on FM 2690, drive your car 2 mi on ranch in to where the Frio Cave is.
Profile & Guided Tours
, see See:
Bats
THE HILL COUNTRY THEATRE:
830-798-8944; 4003 FM-2147, Marble Falls (Cottonwood Shores), TX 78654.
hcct.org
MCREYNOLDS WINERY:
830-825-3544; 706 Shovel Mountain Rd, Cypress Mill, TX 78633;
mcreynoldswines.com
DOSS COUNTRY STORE:
830-669-2160; 14394 RR-783 N, Doss. Gas, burgers, general store, live music sometimes.
DRIFTWOOD ESTATE WINERY:
512-692-6229; 4001 Elder Hill Rd (CR-170), Driftwood, TX 78619.
driftwoodvineyards.com
MANDOLA ESTATE WINERY:
512-858-1470; 13308 FM-150 W, Driftwood, TX 78619;
mandolawines.com
WIMBERLEY VALLEY WINERY:
281-350-8801.
wimberleyvalleywinery.com
SALT LICK BBQ:
18001 FM-1826, Driftwood, TX 78619.
saltlickbbq.com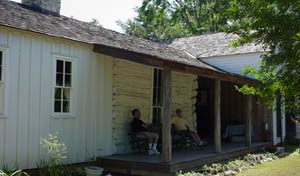 DR. POUND PIONEER FARMSTEAD HISTORICAL MUSEUM:
512-694-0874; RR-12 at Founders Memorial Park, Dripping Springs, TX 78620; 5 acres filled with huge oaks. Grounds were cleared in 1854 to make way for a log cabin that served Dr. Pound's family for four generations. This cabin is the centerpiece now of a 6-room house and has served as a hospital, church and gathering placed for the community. With restoration completed in 2003, facility improvements and historical preservation projects continue to add to the authenticity of the farmstead. During your visit to the museum, docents describe early events and activities and answer questions. Tour home and grounds at your leisure. Tue-Thur, Sat, 12 noon to 3p, closed in Jan, group appointments available.
drpoundpioneerfarmstead.com
DRIPPING SPRINGS ARTS:
See
artsofdrippingsprings.org
DRIPPING SPRINGS FIRST SCHOOL:
In 1881 the Dripping Springs Military Academy was established and became a Baptist Academy. In 1921 the school was opened to the public. The initials of many local residents can still be found carved into the stone and wood of this fine old structure at 101 Old Fitzhugh. This limestone structure was the educational and social center of the town for many years. Horses and buggies brought students and teachers from all of over the Hill Country to its doors. Today it serves as a Masonic Lodge.
LE RAGGE RUGGS/COWGIRLS & LACE:
Opened in 1994, this has grown into a major home decoration center and draws customers from across Texas. Cowgirls and Lace offers furniture, home accessories, clothing, jewelry and gifts.
cowgirlsandlace.com
MAGIC GREENS:
235 Sports Park Road (corner of RR-12), Dripping Springs, TX 78620.
512-858-1468; An 18-hole miniature golf facility Road.
magicgreens.com
NEW CANAAN FARMS:
see below in directory.
SCENIC DRIVE ON CREEK ROAD:
Off US-290 W, this route is popular with bicyclists and motorcyclists for its scenic beauty and diverse wildlife.
THE SPRINGS:
Located near the W end of Mercer Street (Loop 64), the springs are delineated by a granite marker donated by the DS Lions Club. The springs were a gathering place for the Tonkawa Indians, as well as the source of water for the original settlers.
FOUNDERS MEMORIAL PARK & SWIMMING POOL:
27908 RR-12
DRIPPING SPRINGS SPORTS & RECREATION PARK:
WILLOW CITY LOOP:
This popular 13 mile drive has scenic views around every windy turn up and down the back-roads of this rugged area, including a surprisingly large and beautiful canyon. This loop is particularly popular and outstanding when the wildflowers are in full bloom (especially bluebonnets, sometime in March-May, rain dependent), with lots of car and motorcycle traffic taking in the mosaic colors. Enter this loop on Hwy 16 at the Loop's NW corner (for a clockwise tour), or on RR 1323 in Willow City (for a counter-clockwise tour). Private land on both sides of this loop, so no stomping or picnicking in the fields of wildflowers. There is a good place to stop in the bottom of the canyon, stretch your legs and enjoy the views.
Loop Map
; Google
Map
;
Article
, Wildflower
Photos
FISCHER STORE SCHOOL COMMUNITY CENTER:
830-660-5555; 12400 RR-32, Fischer, TX. A non-profit association organize to provide a Community Center and is available on a rental basis for civic and social events. Built in 1875. A Texas landmark. Open Wed-Sun afternoons. Previously served as a post office, bank and saloon.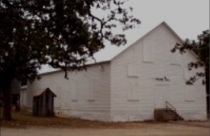 THE FISCHER DANCE HALL:
210-935-4800; Still operated by descendants of the original family who built it. The town continues German pioneer pastimes with a handset nine-pin bowling alley. Several scenes from Willie Nelson's movie "Honeysuckle Rose" were filmed on location here. The interior of the Hall is an architectural wonder with beautiful old hand hewn beams and rafters. Adolph Hofner has played here many times and Ponty Bone has played several weddings.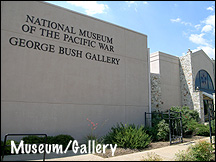 ADMIRAL NIMITZ STATE HISTORIC SITE & NATIONAL MUSEUM OF THE PACIFIC WAR:
830-997-4379;
nimitz-museum.org
. Dedicated to all those who served in the Pacific War. The George Bush Gallery of the Pacific War, the Plaza of the Presidents, and the History Walk of the Pacific War are all part of the park. Fee required.
FORT MARTIN SCOTT:
830-997-9895.
Web
. On display are artifacts, documents, and fascinating details about trade in bear grease, sugar, rice, and coffee. Showcases many historical events during the year, but the favorite is the Pow Wow which has a virtual kaleidoscope of brilliant colors and native regalia. The first frontier fort in Texas, and an active US Army pre-Civil War outpost from 1848 to 1853. Soldiers were trained here, and it supported troops on scouting and patrol missions in the area.
FREDERICKSBURG HERB FARM:
830-997-8615;
fredericksburgherbfarm.com
. Beautiful organic herb gardens, a celebration of scent and color. Includes a tearoom, bistro, candle shop, day spa, and retail area along with the herb gardens.
FREDERICKSBURG NATURE CENTER:
fredericksburgnaturecenter.org
. Located at Lady Bird Johnson Park, this is a focus of diversity because of the local hydrology and geology. Within the 10 acres you will find 11 distinct habitats. That one small area offers so many species of birds, forbs, grasses, woody plants, amphibians, reptiles, and insects is truly amazing.
FREDERICKSBURG THEATER COMPANY:
Tickets: 888-669-7111; 830-997-3588;
fredericksburgtheater.org
. Live theater productions that entertain and uplift, 6 shows per season, two of them musicals. See the better-known musicals and the tried-and-tested plays on their stage. Reputation for "the loudest applause in the Hill Country."
FREDERICKSBURG TRADE DAYS:
830-990-4900; 830-846-4094;
fbgtradedays.com
. Weekend of 3rd Sat every month. A very large, professionally operated facility with food vendors, live entertainment, permanent buildings, and zillions of seller booths with a huge variety of goods.
HISTORIC DOWNTOWN & FAMILY WEEKEND GETAWAY DESTINATION:
One of the most popular destinations in the Hill Country because of its charm and diversity of attractions: German culture; B&B community (over 300 guesthouses); 900 hotel/motel rooms, over 150 specialty shops downtown; 75 restaurants, 5 museums, historic sites, golf course, airport, downtown historical district with over 80 points of historic interest and significance in the district. A free self-guided walking map of the district is available at the Fredericksburg Visitor Center. K&K Tours offers a guided walking tour for a fee.
PARKS:
Cross Mountain Park: Located 1.5 mi N of downtown on FM-965, on the W side, on a hill top. The early German settlers in this Hill Country town reportedly found an old wooden cross on top of the hill that may have been left by earlier Spanish explorers who passed through the area. As a result, this area became known as Kreuzberg (Cross Mountain). The original cross has been lost to history, but today a large concrete-metal cross stands in its place. At 1,951 feet elevation, it offers a panoramic view of the town and area. No vehicles permitted. Accessible by a short walk on a dirt foot trail. Park at bottom and look for "Enter Here" sign
Lady Bird Johnson Golf Course: 830-997-4010; 800-950-8147;
Located 3 mi S of downtown area at the municipal park (see below). golffredericksburg.com. Public, municipal, 18 holes, 6432 yds, par 72, championship course. Has practice facilities and Red Bird Grille
Lady Bird Johnson Municipal Park: 830-997-4010; Located 3 mi S of downtown area. golffredericksburg.com. 150 acre park includes facilities for golf, camping, sports (softball, baseball, basketball), swimming, picnicking, and fishing. Olympic-size pool, six tennis courts, open-air pavilions and Pioneer Pavilion (an enclosed pavilion), accommodates up to 500 for special events. RV park with 113 spaces with full hook-ups and tent camping. RV reservations: 830-997-4202
Elementary School Park: Located on 10 acres adjacent to the Elementary School, includes baseball/soccer fields, a walking/jogging track, outdoor basketball court, playground, picnic pavilions
Frantzen Park: A quaint little park located in the 400 block of S Orange St along Barons Creek.
Marktplatz (market Square): A well-known park in the heart of Fredericksburg includes pavilions and a playground for individual use and is the site for festivals
Oak Crest Park: Located 2 mi S of Main St on TX 16. Has 1 regulation sized, lighted baseball field and two Little League sized, lighted fields.
Old Fair Park: Located 3 blocks S of Main St at the corner of S Lincoln and E Ufer streets, just E of HEB. Has 2 regulation little league baseball/soccer fields, soccer/multi-use field and playscape equipment.
Tatsch House: Meeting facility available for rental for family gatherings of 60-80 people (indoors). Reservations: 830-997-4202
(THE) PIONEER MUSEUM & VILLAGE COMPLEX:
830-997-2835;
pioneermuseum.com
. The heritage of the hearty Texas pioneers comes alive here on three acres, right in the heart of town, you'll be able to time travel to the past and see how the German settlers really lived as you visit almost a dozen historic buildings. Each May the Pioneer Museum celebrates Founder's Day with hands-on events, music and good German food. Created in 1956 when the Historical Society bought the home, smokehouse and barn of Henry Kammlah and turned it into a small museum. Since then six major structures have been added and the museum has frontage on two streets. Includes 1849 pioneer home and general store, smokehouse, blacksmith shop, Volunteer Fire Department Museum, and schoolhouse. Museum store.
ROCKBOX THEATER:
830-997-7625;
rockboxtheater.com
. A professional variety live-music, Rock 'n' Roll show with 4 performances per week.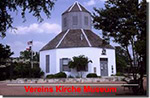 (THE) VEREINS KIRCHE MUSEUM:
830-997-7832;
Web
. Located in the center of Marktplatz downtown. Visitors learn about the town's German heritage. The original octagonal structure, the first building constructed in town in 1847, played a major part in the history of the town because it served as a church for several denominations, as well as a school, meeting place and fortification for more than half a century. This was the first museum the City had when the Historical Society opened it in 1935. Permanent exhibits focus on area history and rotating photograph exhibits. Books and souvenirs for sale.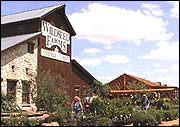 WILDSEED FARMS:
800-848-0078;
wildseedfarms.com
. Visit one of the nation's largest working wildflower farms. Open daily. Self guided tours of the flowers. See colorful flowers from spring through first frost.
WINERIES:
fredericksburg is at the hub of "winery row" along US 290, with a growing number of wineries said to be in Fredericksburg but actually are in Stonewall on the east to way west of Fredericksburg. These include: Becker, Bell Mountain/Oberhellmann, Chisholm Trail, D'Vine Wine, Four Point O Cellars, Fredericksburg Winery, Grape Creek, Hilmy, Mendelbaum Cellars, Rancho Ponte, Santamaria, Torri di Petri, and Woodrose. See
www.hillcountryportal.com/hillcountrywine
. Make your own field trip or hire a wine tour limo and leave the driving to them.

AND LOTS MORE:
Fredericksburg is rich with the
Arts
,
Dance Halls
,
Antiques
,
Golf
,
Hunting & Fishing
and
Peaches
, to name a few. Check 'em out!
LAKE RESORT:
This city is popular with lake enthusiasts with its 19 city parks, most of which are located on Lake Lyndon B. Johnson. See
graniteshoals.org/parks
GRUENE DOWNTOWN HISTORIC DISTRICT:
Quaint shops, restaurants, historic buildings, B&Bs
GRUENE HALL:
Built in 1878, this is a huge attraction in modern times. Claimed to be the "the oldest dance hall in Texas." Gruene Hall has hosted such acts as Willie Nelson and George Straight.
gruenehall.com
RIVER WATERSPORTS:
Tubing and water fun on the Guadalupe River
HIDDEN SPRINGS GOLF COURSE:
830-990-4122;
hidden-springs-golf.com
HARPER PIONEER MUSEUM:
830-739-2101;
harperpioneermuseum.com
See separate listings by city/town.
HILL TOP CAFE:
830-997-9242; 10661 US-87 N, (Hill Top) Doss, TX.
hilltopcafe.com
HORSESHOE BAY MARRIOTT RESORT & CONFERENCE CENTER:
830-598-8600; 800-252-9363; 800-531-5105; 200 High Circle N, Horseshoe Bay, TX 78654;
horseshoebaytexas.com
; Resort community with pools, 3 championship golf courses, putting course, tennis center, water sports, spa, fitness club, lodging.
HORSESHOE BAY RESORT - GOLF COURSES (Three, 18 holes each):
830-598-6561; #1 Horseshoe Bay Blvd, Horseshoe Bay, TX 78657
Residential community & water recreation on Lake Travis.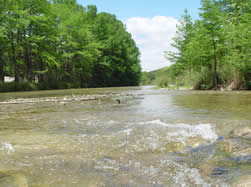 CRIDER'S RODEO, DANCE HALL & CAFE:
830-238-4441;
cridersrodeoanddance.com
. Circa 1925. On S Fork of the Guadalupe River. See
Dance Halls
GUADALUPE RIVER TUBING & PADDLING:
See
Tubing & Paddling
HUNT GENERAL STORE:
830-238-4410;
thehuntstore.com
. Country store, cafe, gas, bank, live music, real estate, B&B. Est 1946. Open 7 days/wk. An iconic community gathering place & hub.
SUMMER CAMPS, HUNTING RANCHES:
See
Summer Day Camps
and
Hunting & Fishing

GARRISON BROTHERS DISTILLERY:
512-302-0608;
garrisonbros.com
. Home of the first legal bourbon distiller in Texas.
HYE HISTORIC POST OFFICE:
Opened 1886, still in use today but not modernized.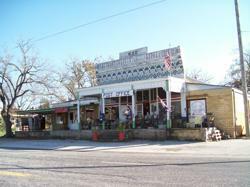 President Lyndon B. Johnson, at the age of 4, mailed his first letter here. Lawrence O'Brien was sworn into President Johnson's Cabinet as Post Master General on the steps of the store in October 1965. This historic building is also a general store.
WINERIES:
See
Wineries
GUADALUPE RIVER TUBING & PADDLING:
See
Tubing & Paddling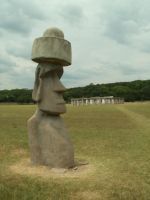 OLD DOWNTOWN INGRAM:
Business buildings of old section of town now house art studios and galleries, antique shops, boutiques and restaurants. On loop, off TX-39 and TX-27
HILL COUNTRY ARTS FOUNDATION (HCAF):
hcaf.com
.
Video
. Live theater (Smith-Rich Theater at "The Point"), gallery exhibits, fine arts education. HCAF features an outdoor and indoor venue on the banks of the Guadalupe River, with 722 seats. HCAF started in the summer of 1959 and now is the longest running outdoor theatre in Texas.
STONEHENGE II IN THE HILLS:
The "Eighth Wonder of the Texas Hill Country". Far from the Salisbury Plain in England, this 2/3's scale replica of the famous 3,500 year old Stonehenge megaliths rises in a rural setting, guarded by 2 brooding, 13 ft tall replicas of Easter Island maoi (head statues). Located at HCAF below.
Video
SUMMER CAMPS, RESORTS, HUNTING RANCHES:
See
Summer Day Camps
and
Hunting & Fishing
ART GALLERIES: This small town has a plethora of artists and galleries for your enjoyment. Be sure to visit the A Smith Gallery, LMC Mural Gallery, Kathleen Marie Studio, Kirchman Gallery, and more. For more detailed listings, see Galleries, and nearby Arts.

SELAH, BAMBERGER RANCH PRESERVE (& BAT CAVE): 830-868-2630; Nature, Pure & Simple. Environmental Educational Institute, preservation programs, lodging, meeting facilities, tours and more. This 5,500 acre ranch that has been described as the largest habitat restoration project on private land in Texas. Educational and interpretive services as well as transportation are provided by ranch staff. Non-profit. bambergerranch.org. See: Bats

SHIRLEY RANCH (formerly BENSON FARM & RANCH): 830-868-7109; This 2,500 acre ranch located near Johnson City offers guided hunts for whitetail and exotics as well as fishing and full lodging. Registered Aberdeen Black Angus and thoroughbred race horse breeding. shirleyranch.com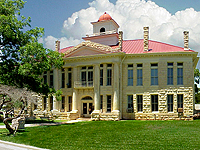 BLANCO COUNTY COURTHOUSE: Still in service, this beautiful courthouse contains government offices and historical displays. On the Courthouse Square, of course.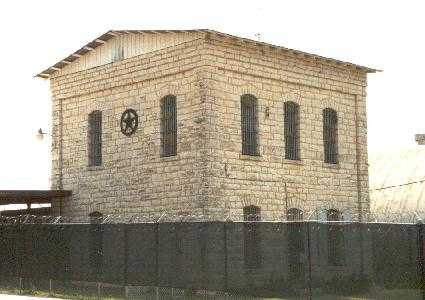 BLANCO COUNTY JAIL: See this historic facility, owned by Blanco County, no longer in active use. Located next to Memorial Town Park, on Ave G just across from the Courthouse and a half block from US-290. Completed in 1894, built of limestone by J.E.L. Dildine, a rock mason from Kansas. A record of only one jail outbreak, in 1897. Currently being remodeled into an office facility including an adjoining new building.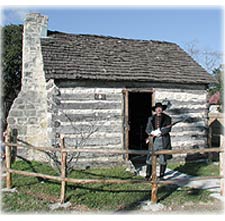 CAPTAIN PERRY TEXAS RANGER MUSEUM: 830-868-7111; Owned and managed by City of Johnson City, and temporarily closed.

ENTERTAINMENT: Live entertainment is regularly offered at the Pecan Street Brewery (on Courthouse Square), and occasionally at other in-town and very nearby venues. For detailed listings, see Entertainment

EXOTIC RESORT ZOO: 830-868-4357; Located just north of Johnson City on US-281.
A resort for wild animals where people can enjoy their company. 137 wooded acres with several lakes and creeks. Over 500 animals and 80 species. Guided tours, luxury safari style cabin rental, traveling petting zoo, school field trips. Education, preservation, entertainment. zooexotics.com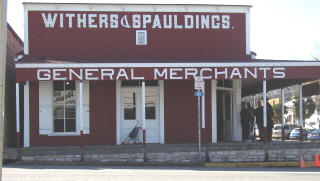 JOHNSON CITY CHAMBER VISITORS CENTER:
830-868-7684. Located in the beautifully restored Withers & Spauldings Building on Main St, it has brochures, maps, free broadband Wi-Fi, and friendly Visitors Assistants to help you with local information. This Center houses an impressive collection of displays and images from LBJ's past and present. The National Park Service co-locates with the Chamber and has outstanding historic displays and LBJ park information. JohnsonCityTexas.info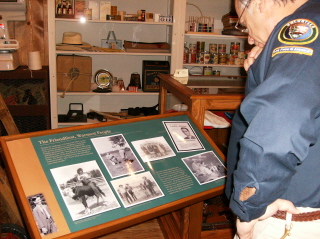 JOHNSON CITY HIKING TRAIL: 830-868-7111. This 1.8 mile round trip hiking trail meanders from the Johnson City Community Park, past the Courthouse Square to the LBJ Park Visitor Center. You can extend the hike on both ends by walking through the parks and sidewalks. Walking and roller skates only, no bicycles or skate boards. Water fountain and memorial park benches along the way. Not yet lighted at night.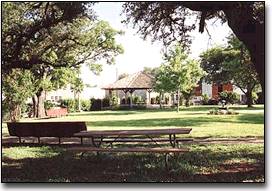 JOHNSON CITY MEMORIAL PARK: 830-868-7111. A beautiful small park in the center of town on Main Street (US-290 at Ave G), with large oak trees, gazebo, picnic tables, park benches, a memorial, and public bathrooms. Site of music events, festivals and weddings. Specially decorated for many holidays.

JOHNSON CITY SWIMMING POOL, PAVILION & PARK: 830-868-7111. Private parties, swimming lessons and water aerobics available. Tennis courts, ball fields and pavilion.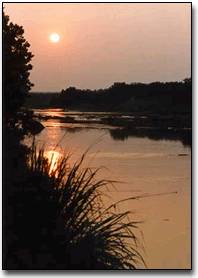 JOHNSON CITY WATER SPORTS AREA: Located on the Pedernales River at the Bridge on US-281 just N of town and next to the Blanco County Show Barn. Easy launching area. Ideal for kayaking, canoeing, picnicking and fishing. Convenient parking at the launch area. No lifeguards. There is no charge for use of the water area or parking. Enjoy.




LYNDON B. JOHNSON NATIONAL HISTORICAL PARK (Johnson City):
830-868-7128; www.nps.gov/lyjo
Attractions at this very popular park include:
NPS HQ & Visitors Center with LBJ period videos, Book/Gift Store & LBJ Memorabilia; Park Meeting/Event Center; LBJ Boyhood Home, Johnson Settlement; and NPS Park Facility with horses, cattle and historical markers.
Click Map (requires Adobe Reader).
Also see Parks & Lakes for more details.

PEDERNALES RIVER NATURE PARK: Owned and managed by LCRA, this 222 acre river-front park is located right in Johnson City. Offers public recreational day use, including fishing and picnicking. Plans are underway for more extensive development of outdoor facilities and activities. During this interim period, LCRA access and facility use fees are temporarily waived. See lcra.org/pedernalesnaturepark. On east side of US-281 at the Pedernales river bridge. Entrance just south of Town Creek and a few block N of the US-281/290 intersection.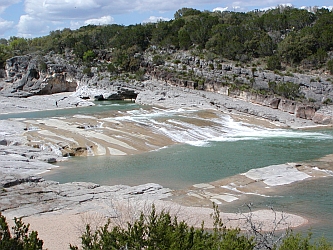 PEDERNALES FALLS STATE PARK: 830-868-7304
Located 9 miles east of town (go out RR-2766). 5212 acres located along the banks of scenic Pedernales River and features picturesque waterfalls, abundant animal and bird life, fishing, swimming, tubing, camping, picnicking, hiking, mountain biking and horseback riding. Main attraction is the set of waterfalls carved out of the limestone terrain that can be viewed from a scenic overlook at the north end of the park. In this area, the elevation of the river drops about 50 feet over a distance of 3000 feet, and the cascading falls are formed by the flow of water over the tilted, stair-step effect of layered limestone. Pedernales Falls State Park. Also see Parks & Lakes

NEARBY: LYNDON B. JOHNSON NATIONAL HISTORICAL PARK - STONEWALL: Located just 11 miles west of town, in Stonewall. This home of LBJ and Lady Bird is the "Texas White House" famously used during his presidency and showcased to the world with US and international leaders from the world visiting their ranch.
See Parks & Lakes for more details.

NEARBY: LBJ STATE PARK & HISTORICAL SITE: 830-644-2420; Also in Stonewall, this state park has many resources to offer, including a visitor center, exhibits, pool, pavilion, the Sauer-Bechman Living History Ranch, and much more. (LBJ State Park).

MORE PARKS: For these and other nearby parks and preserves, such as Hamilton Pool Preserve, Reimer's Preserve, and Westcave Preserve, and greater details on state and national parks in the immediate area, click: Parks

REPTILANDIA-REPTILE LAGOON: Located just North of town at 1859 US-281 N, Johnson City, TX 78636. reptilandiazootexas.com. A reptile exhibition and conservation zoo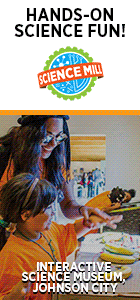 SCIENCE MILL: 830-992-9549; 101 Lady Bird Ln (US-290 at Nugent Ave), Johnson City, TX 78636. A family destination offering a fun, interactive learning environment for all ages. Through cutting-edge technology-based exhibits, games and programs, the Science Mill expands students' understanding and appreciation of science in their everyday lives. By igniting their curiosity and inspiring them to pursue post-secondary education, the Science Mill experience starts students on the path to a lifelong career in science, technology, engineering and math (STEM). More details on website. sciencemill.org

TEXAS VINTAGE MOTORCYCLE MUSEUM: 832-326-3299; 100 N Nugent Ave (corner Nugent & Main), Johnson City, TX 78636. texasvintagemotorcyclemuseum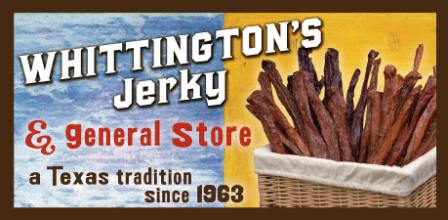 WHITTINGTON'S: 830-868-5500; Maker of the best beef and turkey Jerky in the Hill Country. Only Texas food products. All of their Jerky is made right here in Johnson City, using only the finest of meats and following their 40 plus year old family recipe. Retail and wholesale. Since 1963, producing jerky at the factory next door to their General Store and gift shop. Store has samples of their jerky and salsas, a wide variety of gifts, jewelry, candles, knick knacks, spices, preserves, jelly, syrups, cobbler-in-a-jar, pickled foods, cold beverages, Texas wines by the bottle, made to order gift baskets, and more. Located on south end of town on US-281. whittingtonsjerky.com.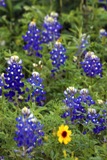 WILDFLOWER TRAILS: Johnson City is the "Wildflower Capital of the Texas Hill Country", and the scenic roads in and around JC in the springtime are often emblazoned with the colors of bluebonnets, painted brush, Indian paintbrush, phlox, Mexican poppy, winecups, Indian blanket and lemon mint along the roadsides and in the fields. The annual Wildflower Festival (flower displays, live music, contests, and vendors aplenty) plays tribute to the enticing splendor of natural beauty for which this area is known. A must see and makes for great weekend adventures! Also, don't miss the nearby Willow City Wildflower Loop.
See Wildflowers

WINERIES: See: All About Hill Country Wine and Wineries
Crowson Wines: 830-308-8638, crowsonwines.com
Farmhouse Vineyards Tasting Trailer: farmhousevineyard.com
Hahne Estates Winery: 281-702-2850, hahneestateswinery.com
Lewis Wines: 512-663-6468, lewiswines.com
Ron Yates Wines: 512-585-3972, ronyateswines.com
Texas Hills Vineyard: 830-868-2321, texashillsvineyard.com
Vinovium: 737-600-3127, vinovium.wine



JUNCTION GOLF COURSE:
325-446-2968; FM-2169 W, Junction, TX 76849. Public, 9 holes, 2827 yds, par 35.
junctiontexas.net/golf.htm
FT MCKAVETT STATE HISTORICAL SITE:
325-396-2358; An 82 acre park facility 22 mi SW of Menard in Menard County, governed by the State Historical Commission. Open daily to the public, 8a-5p. Established in 1852. General William T. Sherman once called Fort McKavett "the prettiest post in Texas."
Web
. Included in the Texas Forts Trail:
Web
SCENIC DRIVE:
US-377 Southbound from Junction along the South Llano River. There is a roadside park 22 mi S that has an excellent view.
SOUTH LLANO RIVER STATE PARK:
Cool clear water, shady trees, and abundant wildlife all make this an ideal camping spot. The winding South Llano River forms the northern park boundary with 1.5 miles of river frontage. The 507-acre wooded bottomland is home to the white-tail deer and Rio Grande turkey. Campsites accommodate up to 8 persons each, with a combination of motor vehicles and trailers not to exceed 2; sites have picnic table and BBQ grill. In addition to primitive campsites there are walk-in campsites with picnic tables and fire rings, campsites with water and electricity which include back-in parking; and a restroom with hot showers nearby. A spring-fed scenic stream has sufficient flow for canoeing, tubing, and swimming. Several hiking trails leading into the adjoining 2,123-acre Walter Buck Wildlife Management Area are available. Location: In
Kimble County
, 5 mi S of
Junction
off US-377 at 1927 Park Road 73, Junction TX 76849; 915-446-3994;
tpwd.state.tx.us/spdest/findadest/parks/south_llano_river
Local city parks include:
Schreiner City Park, Morgan Shady Park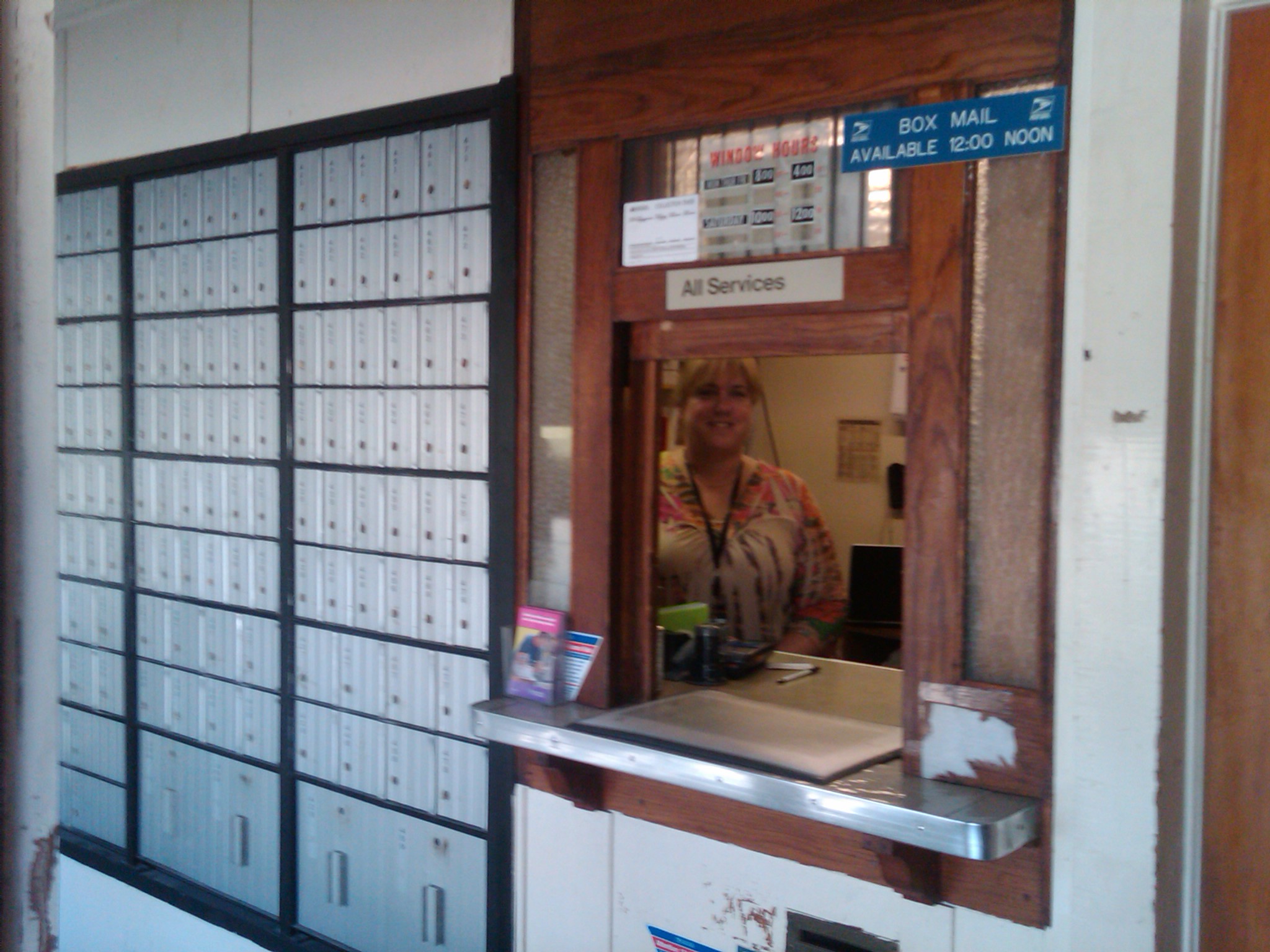 KENDALIA GENERAL STORE & POST OFFICE:
830-336-2450; [Editor's food review: Truly excellent hamburgers, in an authentic 1950's general store setting. Be sure to check out the Post Office on the S end of this building . . It will take you back several decades to an old-time setting; Have a chat with the Postmaster].
KENDALIA HALLE DANCE HALL:
210-863-1100;
kendaliahalle.com
. Renovated historic dance hall and event center with great country western music.
HILL COUNTRY MUSEUM:
830-896-8633. Downtown Kerrville, 226 Earl Garrett St, Kerrville, TX 78028. Experience the thrilling story of Captain Schreiner and the Texas Hill Country!
kerrdowntown.com/hillcountrymuseum
MUSEUM OF WESTERN ART:
830-896-2553; 1550 Bandera Hwy, Kerrville, TX 78029-4300. The Cowboys, the Native Americans, the Settlers, the Mountain Men and others who tamed the West share their adventure through the rotating exhibits on display at the Museum of Western Art where the legend of the American West lives on. Formerly "Cowboy Artists of America Museum".
museumofwesternart.com
KATHLEEN C. CAILLOUX THEATER:
830-792-7469; Symphony of the Hills.
symphonyofthehills.org
;
caillouxtheater.com
HILL COUNTRY YOUTH ORCHESTRAS:
830-257-0809;
hillcountryyouthorchestras.org
KERR ARTS & CULTURAL CENTER:
830-895-2911; 228 Earl Garrett (Old Post Office), Downtown Kerrville.
kacckerrville.com
PLAYHOUSE 2000:
830-896-9393; 910 Main Street, Kerrville. Bringing professional quality amateur theater to Kerr County.
RIVERSIDE NATURE CENTER:
830-257-4837; 150 Francisco Lemos St. Kerrville, TX. On Town Creek, 3 beautiful gardens, pavilion, explorer's lab for children, and an historical general store.
riversidenaturecenter.org
CARVER PARK:
N part of Kerrville, on Paschal
KERRVILLE CITY PARK:
TX-27 and 5343, SW part of Kerrville
KERRVILLE-SCHREINER PARK:
830-257-5392; located 5 mi S of town on TX-173 along Guadalupe River. City owned and operated. Swimming, canoe/kayak rentals, picnicking, wildlife, playground and courts. Deer and antelope are prevalent. Wide variety of wildlife. Camping, RV spaces.
SCHULZ PARK:
W part of Kerrville, on Glenn Rd
KERRVILLE STATE PARK:
TX-27 and 173, SW part of Kerrville
LOUISE HAYS PARK:
downtown Kerrville, on TX-16 at the bridge
LEGENDS ON LAKE LBJ GOLF COURSE (18 holes, Public):
105 Rangeway Circle, Kingsland, TX 78639. 325-388-8888.
legendsonlakelbj.net
PACKSADDLE GOLF & COUNTRY CLUB (18 holes, Semi-Private):
118 Club Circle, Kingsland, TX 78639. 325-388-3863.
packsaddlecc.com
HISTORIC RAIL YARD COMPLEX:
Turn of the century, restored train depot, trolley cars, Antler Inn Resort, antique filled Antler Inn, cabins, cottages, caboose accommodations, Junction House Restaurant & Lounge, restored 1800s log cabin, working cistern, courtyard, rolling lawns and Antique Shop. 15 acres of woodlands and nature trails on he banks of Lake LBJ with frontage, fishing and boat docks. Overnight lodging, event venue and weddings. Listed, National Registry of Historic Places. See phone, address and history below.
HISTORIC DOWNTOWN DISTRICT (aka OLD TOWN KYLE):
Shops, restaurants, historic buildings
HISTORIC TRAIN DEPOT:
100 North Front Street, Kyle. Missouri-Pacific RR. Now home to Kyle Visitor Center.
KYLE AUCTION OAK:
Sledge St, 2 blocks S of Center Street. When Kyle was founded along the railroad line in 1880, this oak was the site of a public auction of town lots. The railway was given 200 acres of land.
KYLE HANGING TREE:
10 mi S of Kyle on Old Post Rd (CR-136). Cowboys found a dead man hanging here and buried him not far from the trunk of this Live Oak. This grave for the mystery cowboy became the Kyle Cemetery. The tree is near the entrance of the cemetery and is easily recognizable by its shape and its solitary location.
KATHERINE ANNE PORTER MUSEUM:
512-268-6637; 508 W Center St, Kyle, TX. This quaint museum is located in the house where Katherine Anne Porter spent some 10 years of her childhood. The Pulitzer Prize-winning author is probably best known for her novel, "Ship of Fools", published in 1962 and later made into a movie. Museum contains Porter memorabilia and that of other Southwest writers, artists, and poets. Open Tue-Fri 1-6p, Sat 9a-5p.
english.txstate.edu/KAP
CLAIBORNE KYLE LOG HOUSE:
512-268-9981; On CR-136 SW of Kyle. In 1850 Claiborne and Lucy Bugg Kyle built this massive log house on a bluff overlooking the Blanco River where they, their 8 children and one adopted son lived. Built of huge cedar logs, the four-pen, linear dog-trot house has four rooms, each about 16-feet square lined up, two on either side of the dog trot. Restored and furnished by the Kyle Log House Commission. Listed in the National Register of Historic Places. Open first Sun, Apr-Aug, 2-5p.
PLUM CREEK GOLF COURSE:
512-262-5555; 750 Kohlers Crossing Rd, Kyle, TX 78640. Public, 18 holes, 7132 yds, par 72.
plumcreekgolf.com
Note, the OLD KYLE CITY JAIL:
No longer located in Kyle, was moved years ago to Aquarena Springs, San Marcos, and reportedly is not available for touring because of its condition.
STEEPLECHASE PARK:
295 Hallie Dr; playscape, pavilion, disc golf, beach volley ball, trails, sport fields; city owned.
WATERLEAF PARK:
600 Abundace Ln; sport fields, playground, disc golf, waterleaf, 92 acres; city owned.
GREGG-CLARKE PARK:
1300 W. Center St; 32 acres, sport fields courts, playscape, pavilion, pool; city owned.
CITY SQUARE PARK:
101 S Burleson St, Downtown; 1 acre, gazebo, old city hall building/hall, water fountain; city owned.
HIGHLAND LAKES COUNTRY CLUB:
512-617-4950; 20552 Highland Lakes Dr, Lago Vista, TX 78645. Public, 18 holes, 6529 yds, par 72.
highlandlakesgolfclub.com
LAGO VISTA GOLF CLUB:
512-267-1170; 4616 Rimrock Dr, Lago Vista, TX 78645. Public, 18 holes, 6579 yds, par 72.
lagovistagc.com
LAGO VISTA AIRPOWER MUSEUM:
512-267-7403; Hanger 9 at Lago Vista Airport, Lago Vista, TX. Aircraft include L4 Grasshopper, PT 13 Stearman, RF-4C Phantom Jet and F100 Super Sabre Jet. Displays: Uniforms, engines, guns, swords, WWII Jeep, diaries, medals, hundreds of photographs, and books from 1914 through Desert Storm. Includes more than 350 model aircraft of all nations from World War I & II, Korea, Vietnam and Desert Storm. The library features more than 1,200 books on the military. Sat 1-5p, by appt. other days. Free. Take FM 1431 to Lago Vista, right on Bar-K Ranch Rd. to airport on Flight Line Road.
LOWER COLORADO RIVER AUTHORITY (LCRA) PARKS:
Many in the region. See
Parks

BALCONES CANYONLANDS NATIONAL WILDLIFE REFUGE:
512/339-9432; HQ is located off FM-1431 at Lago Vista, on Cow Creek Rd. The refuge is made up of limestone hills and spring fed canyons. The primary purpose of the refuge is to conserve the nesting habitat of the endangered Golden-cheeked Warbler and Black-capped Vireo. Open daylight hours, and on most days. Observation deck. Ranch trails open most days. Maintained by US Fish & Wildlife Service.
fws.gov/southwest/refuges/texas/balcones
LIVE OAK GOLF COURSE:
512-261-7173; 510 Lakeway Dr, Lakeway, TX 78738. Private, 18 holes, 6643 yds, par 72;
Web
;
Review
YAUPON GOLF COURSE:
512-261-7173; 510 Lakeway Dr, Lakeway, TX 78738. Private, 18 holes, par 72. See above web site.
FLINTLOCK FALLS GOLF COURSE:
512-261-7572; 100 Clubhouse Dr, Lakeway, TX 78738-1101. Private, 18 holes, 7051 yds, par 72. See above web site.
LAKEWAY CITY PARK
DOWNTOWN NATIONAL HISTORICAL DISTRICT:
Includes Courtyard Square historic mineral springs (cool sulphur water); recreation; hunting and fishing (large and active deer, turkey and other game-hunting and fishing area).
PILLAR BLUFF VINEYARDS:
512-556-4078; 300 Burnet CR-111, Lampasas, TX 76550;
pillarbluff.com
; Fri-Sat 10-5; Sun 12:30-5. Private tastings by appointment. Directions: From Hwy 183/281 take 580 W 8 blocks to Farm Road 1478. Turn L off 580 W and stay on 1478 for 5 mi. At the Burnet County Line turn L onto CR 111. The winery is the first building on the R. We specialize in French varietals.
TEXAS LEGATO WINERY:
512-556-9600; 2935 FM-1478, Lampasas, TX 76550.
texaslegato.com
. A family owned and operated winery located in the northern part of the scenic Texas Hill Country. Located 4.3 mi SW of Lampasas, Texas on 21 acres. Sat 10a-6p; Sun Noon-5p; Fri 10a-6p. Only on Texas Hill Country Wine Trails and Way Out Wineries Road Trip Weekends.Other times by appointment.
KEYSTONE SQUARE MUSEUM:
512-556-2224; 305 S Western St, off Third St, in downtown Lampasas. Housed in an early frontier building, museum features variety of changing exhibits devoted to such subjects as Texas Rangers, early-day saloon items, Indian artifacts, ranch and home implements, tools, and old-fashioned crafts. Mon 10a-Noon, Sat, 10a-2p, and by appointment. Tours welcome. See special events schedule. Free.
lampasaschamber.org/5674301_47902.htm
HANNA SPRINGS SCULPTURE GARDEN:
Located at Campbell Park. A short walk from historic downtown (2 blocks). LAFTA has on exhibit in the park 9 sculptures from Texas artists (also one piece at William Brook Park on Hwy 190 and a sculpture in front of City Hall. See LAFTA below).
HANCOCK PARK GOLF COURSE (Public)
, 237 Naruna Rd, Lampasas, TX 76550. 512-556-3202; 18 Hole, municipal course. SW side of town, just W of intersection of Hwy 281 S and Naruna Rd.
cityoflampasas.com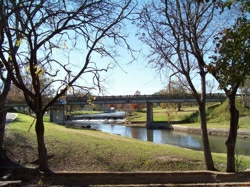 MAYBORN PLANETARIUM & SPACE THEATER:
254-526-1800;
starsatnight.org
. Planetarium sky shows; laser light shows; large format films.
HANCOCK PARK:
109-acre municipal facility includes Hancock Springs, source of water for public baths a century ago. Picnic and playgrounds, swimming pool, pavilion and 18-hole golf course. Southwest, off US-281.
WILLIAM BROOK PARK:
Offers outdoor theater, picnic and playgrounds, gazebo and scenic walking trails along the water. South side of city, at US-190 at US-281.
MOTORCYCLE RIDING ON THE "THREE TWISTED SISTERS" (RM-335, 336, 337)
SCENIC, HILLY DRIVES:
Sabinal River Canyon along RR-187
SCENIC DRIVE - US 83 NORTH:
Skirts East Frio River; 12 mi N, a roadside park offers spectacular view and picnic facilities.
SCENIC DRIVE - TWISTED SISTERS:
RM-335; RM-336
SCENIC DRIVE - FM 337:
both east and west spans some of the Hill Country's most spectacular scenery-wooded steppes and tiny secluded valleys. West to Camp Wood leads to river camps on the picturesque Nueces River. East to Vanderpool and north on FM-187 leads to beautiful Lost Maples Natural Area.
FRIO RIVER TUBING & WATER SPORTS:
CAMPING & HUNTING
WILDLIFE ART MUSEUM:
830-232-5607; Features art of taxidermy, sculpture, paintings and carvings. On FM-337, 3 blocks E of US 83. Mon-Sat 9a-5p.
REAL COUNTY HISTORICAL MUSEUM:
830-232-5330; Leakey, TX 78873. Located 1/2 block N of the Real County Courthouse on Evergreen Street in downtown Leakey. Created in 1986 "to help preserve the history and heritage of Real County and to bring to life for you the way our pioneer families lived in these beautiful hills". Open Fri-Sat 10a-4p.
realcountyhistoricalmuseum.com
BADU PARK:
On the N bank of the Llano River up stream from the bridge at its intersection with TX-16. Access to the river for swimming, fishing, wading, picnicking and limited RV sites. Operated by the City. 325-247-4158. See above web.
LLANO RIVER PARK:
On the S bank of the Llano River down stream from the bridge. Access to the river for swimming, fishing, wading, picnicking and limited RV sites. Operated by the City of Llano. 325-247-4158. See above web.
ROBINSON PARK:
On RR-152 just W of downtown Llano. RV hookups, tent camping, picnic tables, full playground, swimming pool, and large covered pavilion are all nestled under a canopy of oak trees. Great place to swim in the river. Operated by the City. 325-247-4158. See above web.
LLANO RIVER GOLF COURSE:
325-247-5100. 2835 RR-152, Llano, TX 78643. Public, 18 holes, 6094 yds, par 71. Located 2 mi W of Llano on the south bank of the Llano River;
llanorivergolfcourse.com
HILL COUNTRY WILDLIFE MUSEUM:
325-247-2568; At 826 Ford St, Llano, TX 78643. Visit Africa or the Arctic Circle. features 600+ mounted species. Contains world-renowned Campbell Collection of wildlife animals. You would be hard pressed to find this many species of animals on display under one roof any place in the US. Not only home for the animals, but also a learning center for wildlife and natural history. Thu-Sat 10a-5p.
Map
LLANO COUNTY HISTORICAL MUSEUM:
325-247-3026; At 310 Bessemer (TX-16), Llano, TX 78643. Located on the banks of the Llano River, just N of the Hwy 16 bridge in Llano. Located in the historic Bruhl Drugstore Building, operated by the Llano County Historical Society. Features exhibits that help interpret the history of Llano County. Includes a polo exhibit, farm and ranch room, clothing and textiles, military items, rocks and a variety of photographs. An extensive exhibit of artifacts both Indian and early Texas, plus a large display of area gems and minerals. A restored log cabin is on the grounds. Wed- Sat 11a-5p, Sun 1p-5p.
Map
LANTEX THEATER:
325-247-5656; 113 W Main St, Llano, TX. On the square, one of a few single screen theaters still operating in the state. Also home of the Llano Country Opry.
FIESTA WINERY:
325-628-3433;
fiestawinery.com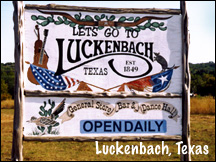 LUCKENBACH TEXAS:
830-997-3224;
luckenbachtexas.com
. Includes dance hall, historic post office and general store, outdoor music venue, food stands, camping areas and more. The web site tells the history of Luckenbach along with events that are happening and their favorite pickers, including Willie Nelson, Waylon Jennings, and many more. "Everybody's somebody in Luckenbach". Meet the cool cat Miz Kitty, the "boss" of the General Store.
LAKE LBJ:
see
Highland Lakes
LAKE MARBLE FALLS:
see
Highland Lakes
HISTORIC MAIN STREET DISTRICT:
Historic buildings brought back to life as shops, restaurants, sculpture, festivals, farmers market and a theater. Historic Main Street Assoc: 830-385-9289,
historicmainstreet.org
FALLS ON THE COLORADO MUSEUM:
830-798-2157; At 905 3rd St, Marble Falls, TX 78654. 2 blocks W of Hwy 281. Created in 1998 to collect and display the history and culture of the Central Texas region centered in Burnet County. Artifacts, documents, photos, books and culturally important icons and memorabilia on display, as well as an area for research. Free admission, donations appreciated. Open Thur-Sun or by appointment.
fallsmuseum.org
. Thu-Sat, 10a-5p.
Map
.
FOX MEMORIAL MARKER & PANORAMIC VIEW:
A monument overlooking Colorado River and scenic Hill Country is dedicated to Oscar J. Fox, composer of the classic popular song, "Hills of Home." In roadside park on U.S. 281 just S of town S of the bridge.
SWEET BERRY FARM:
830-798-1462; From downtown Marble Falls, take FM-1431 W to FM 1980, turn R. Pick your own strawberries and blackberries. Hay rides, horse rides, petting farm, hay mazes, fall pumpkin patch, flowers, face painting, picnic area and more. School, group and civic activities.
sweetberryfarm.com
MARBLE FALLS HISTORIC TRAIN DEPOT & CHAMBER VISITOR CENTER:
830-759-8178; S of RR-1431 on US-281 in Marble Falls. Depot is more than 100 years old. Mon-Fri: 8a-5p.
GRANITE MOUNTAIN/COLD SPRING TEXAS GRANITE COMPANY:
830-693-4316; Home of "Texas Pink" granite used to build the Texas State Capitol building. The mountain can be viewed from roadside picnic areas. Visitors not admitted to quarry area, but a retail outlet is open to the public. On RR-1431 just W of Marble Falls.
ADAM JOHNSON PARK:
Features shade trees, covered picnic areas, playscapes, outdoor stage and restrooms. Popular for reunions and parties. Book at 830-693-3615.
LAKESIDE PARK:
Waterfront park on Lake LBJ features a boat launch, tennis courts, swimming pool, basketball court and picnic area. 1 block W of Hwy 281 bridge. Book covered pavilion at 830-693-3615.
COMANCHE CREEK GOLF COURSE (9 Holes/Public):
325-347-5798; Mason, TX 76856-0397
ECKERT JAMES RIVER BAT CAVE PRESERVE:
915-347-5970. Open from May-October, Thursday-Sunday, 6-9p, Visit one of the largest Mexican free-tailed bat colonies known.
GENE ZESCH'S WOODCARVING EXHIBITION:
FORT MASON CITY PARK:
325-347-6449; On US-87 south of Mason square. 29 Hookups, all types of camping. Hiking trail, community building, ball fields.
FORT MASON:
325-347-5758; 204 W Spruce Street, Mason, TX 76856. Established in 1851 as part of a line of army forts from the Rio Grande to the Red River to open new areas and provide protection for settlers. A training ground for generals.
Web
. Included in the Texas Forts Trail:
Web
HISTORIC MASON COUNTY COURTHOUSE:
Greek Revival style, downtown Mason.
KATEMCY ROCKS:
325-347-6333; 4869 TX-29 W, Mason, TX 76856.
katemcyrocks.com
. 6 mi W of town in Katemcy. Recreation, granite climbing, 4-wheeling
MASON COUNTY MUSEUM:
325-347-0507. Brings history alive with displays from prehistoric times to current ranching and banking. View period events: Mason County War,
establishment of Fort Mason, and the finding largest topaz in North America. Learn about Robert E Lee's command, John Meusebach's treaty with the Indians, Fred Gipson, author of "Ole Yeller" and Johnny Ringo's part in the Mason County War, listed as one of the top ten feuds in Texas. Gift Shop includes sale of surplus memorabilia. Free admission, non-profit organization, donations appreciated.
Two museum locations: Mason County Memorial Museum: 210 Bryan (Northeast corner of Moody and Bryan), Mason. Located 2 blocks S of Courthouse, contains the bulk of the Museum's collection. Museum on the Square: 130 Fort McKavett (N side of the square), Mason. A newer and more compact version of the main Museum, but with unique exhibits.
masonsquaremuseum.org
ODEON THEATER:
SANDSTONE CELLARS WINERY & MASON COUNTY VINEYARDS:
325-347-9463; 211 San Antonio St, Mason, TX 76856; An insightful boutique winery just off the town square in Mason. Tasting room.
sandstonecellarswinery.com
SEAQUIST VICTORIAN MANSION:
512-352-6415. 400 Broad St, built of sandstone, this 22-room house is elaborately detailed with carved limestone. Group tours available.
TOPAZ HUNTING:
Contact Wesley Loeffler, Menard Route, Mason, TX 76856, 915-347-6415, or stop at Nu-Way Grocery on the northwest corner of the square. Country Collectibles on US 87 N, Benji's Books and Gifts, and Underwood's Antiques on the square offer cut and mounted stones.
Meadowlakes is a gated retirement and golfing community with an extensive golf courses.
HIDDEN FALLS GOLF COURSE:
830-693-3300; 220 Meadowlakes Dr, Meadowlakes, TX 78654-7013. Municipal, 18 holes, 6,710 yds, par 72.
meadowlakescountryclub.com
LOVE CREEK ORCHARDS:
1-800-449-0882; From April through October, these orchards are open to the public by guided tour only; call to set up a tour time. Lunch, tours, apple picking, punpkin patch. Known for its dwarf apple trees that produce full-sized fruit with varieties ranging from Crispin to Jonagold.
lovecreekorchards.com
.
THE APPLE STORE & PATIO CAFE:
800-449-0882, 830-589-2588; 14024 TX-16 N, Medina, TX. On Main Street, this shop sells their apples and makes and sells 50 Love Creek apple products 9jams, jellies, apple butter, pies and baked goods, etc. Always fresh apple ice cream and apple pie. Same web as above.
LOVE CREEK NURSERY:
Tree nursery, including "lost" Bigtooth maple trees. 12,000 trees! At above location and web.
MEDINA LAKE:
This lake is the focal point of the area. The lake is an artificial (man-made) reservoir on the Medina River, is 8 mi NW of the Medina River in SE Bandera and NE Medina counties (its center is ). The lake was constructed to irrigate farmlands in Medina, Bexar, and Atascosa counties, but it also became an important recreational facility in the area. A diversion dam and reservoir 4 mi below the main dam eliminated the need for 4 mi of canal work. This smaller dam covers 400 acres. The entire irrigation system was designed to operate by gravity, without the use of pumps.
MISSION SANTA CRUZ DE SAN SABA:
aka "Mission San Saba". Located 4 mi downstream from the Presidio, but no longer visible. An exhibit now tells the story of the rediscovery of Mission San Saba and the archeological investigations that followed. On FM-2092.
History
,
More History
MENARD COUNTY COURTHOUSE:
Built 1932, modern style.
Web
MENARD COUNTY HISTORICAL MUSEUM:
aka "Menardville Museum". 325-396-2365; In the historical AT&SF Train Depot on N side of San Saba River, at 100 Frisco Ave, Menard. (intersection of US-83/190).
MENARD COUNTY JAIL:
Circa 1871, on San Saba Ave. Now a private residence.
Web
OLD MISSION THEATER:
Built in 1927, located on Beavens St, on the Canal Walk.
OLD SACRED HEART CATHOLIC CHURCH:
Circa 1899; Located on the Canal Walk, the oldest in the San Angelo Diocese.
HISTORIC DITCH (CANAL) WALK:
Features several early churches, the Pioneer Rest Cemetery, the San Saba Presidio, Fort McKavett State Historical Park, and remnants of the old irrigation ditch (a canal built by the Spanish in the mid-1750s to supply Mission San Saba) that still flows through downtown. Includes a water wheel operated since 1905 by the Menard Irrigation Company and thought to be the oldest privately-owned water wheel still in use in Texas. Photos & Story:
Web
PRESIDIO GOLF CLUB (Public, 9 holes, 3,000 yds):
325-396-3319; US-190 W, Menard, TX 76859. Just W of Menard, on San Saba River, adjacent to the Presidio ruins.
Web
SAN SABA PRESIDIO:
These ruins of a Spanish fort built in 1751 to protect the nearby mission are located 1 mi NW of downtown on the San Saba River banks, off US-190, now maintained as a county park. aka "Presidio San Saba"; "Presidio de San Luis de las Amarillas".
History
,
More History
,
Photos
SAN SABA RIVER ADVENTURES:
325-456-6447; Provided by Brent Frazier, a native of Menard, with a lifetime of experience exploring, swimming and fishing the San Saba River. With a stable of 12 kayaks, provides guided trips to the most interesting areas of the river. For for the more adventurous, they rent kayaks, provide shuttles, give you a few tips and let you explore the river yourself.
Web
MISSION NUESTRA SENORA DE LA CANDELARIA DEL CANON:
Founded by the Spanish in 1749.
Y.O. RANCH:
1-800-967-2624; 830-640-3222; 1736 Y.O. Ranch Rd, Mountain Home, TX 78058.
yoranch.com
. Store, entertainment, restaurant-steak house, lodging, RV sites, retreats, weddings, land sales, social club, adventure/summer/day camps, swimming, hunting (exotic, native game), wildlife tours, trail drives & horseback riding throughout on rugged 40,000 acre ranch.
BANDIT GOLF COURSE:
830-609-4665; 6019 FM-725, New Braunfels, TX 78130; Public, 18 holes, 6928 yds, par 71.
banditgolfclub.net
CLEAR SPRINGS AVIARIES & ZOOLOGICAL GARDENS:
830-606-6029; IH-35 S, Exit 182.
Gardens
. A privately owned collection of 200 species of rare and endangered exotic birds and animals and 2000 exotic plants on a 35-acre park home. Admission.
DRY COMAL CREEK VINEYARDS:
830-885-4121; 1741 Herbelin Rd, New Braunfels, TX 78132;
drycomalcreek.com
; Hours: Mon-Sun 12-5. Featuring unique and different Texas Style Wines. Directions: 6.6 mi W of New Braunfels off Hwy 46 W (at 1741 Herbelin Rd). Only 20 minutes from Loop 1604 via IH-35 or US-281.
LANDA PARK GOLF COURSE:
830-221-4340; 180 Golf Course Dr, New Braunfels, TX 78130. Municipal, Public, 18 holes, 6168 yds.
newbraunfels.gov
LEE'S PAR 3 GOLF:
830-620-4653; 1450 W Klein Rd, New Braunfels, TX 78130-9036. Public, 9 holes, 1095 yds, par 27.
NATURAL BRIDGE CAVERNS:
210-651-6101; 26495 Natural Bridge Cavern Rd, Natural Bridge Caverns, TX 78266. Just 8 mi W IH-35 (Exit 175) in New Bruanfels. Take a tour of the largest caverns in Texas, visit the Natural Bridge Caverns Mining Company and learn about identifying gems and minerals while filling your pockets with treasure, or take the Adventure Tour through the South Cavern, a physically demanding and thrilling excursion into one of the world's premier caverns. Family-friendly guided tours along lighted, paved walkways. Open daily.
Cavern
NATURAL BRIDGE WILDLIFE RANCH:
830-438-7400; 26515 Natural Bridge Cavern Rd, Natural Bridge Caverns, TX 78266. See this family African safari (Texas style) from the comfort of your own vehicle, travel through hundreds of acres of Texas ranchlands that are a safe home for species from all over the world. Open daily. Located next door to the Caverns.
Wildlife Ranch
RIVER TUBING:
From Canyon Lake to New Braunfels, on the Guadalupe River. Lots of outfitters and camps.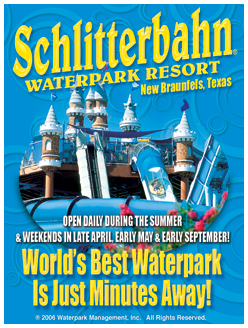 SCHLITTERBAHN WATERPARK RESORT:
830-625-2351; 305 W Austin St, New Braunfels, TX 78130. A 65-acre waterpark and resort complex features more than 40 rides and family activities in six themed areas. Miles of tube chutes. Voted "World's Best Waterpark 11 years in a row". Free parking.
Schlitterbahn
ANIMAL WORLD & SNAKE FARM:
830-608-9270; 5640 IH-35 S, Exit 183, New Braunfels, TX.
exoticanimalworld.com
. 400+ reptiles. 10a-6p daily. Fee Required.
SUNDANCE GOLF COURSE (EXECUTIVE),
830-629-3817; 2294 Common St, New Braunfels, TX 78130-3156. Public, 18 holes, 3558 yds, par 58
ALAMO CLASSIC CAR MUSEUM:
830-606-4311; 6401 IH-35 S, New Braunfels, TX, 78132. Take a trip down memory lane among dozens of classic and vintage cars.
BUCKHORN BARBERSHOP MUSEUM:
830-629-2943; 521 W San Antonio, New Braunfels TX 78130. See Wagenfuehr Home below.
(THE) CARL FRIEDRICH BAETGE HOME (1805-1883):
830-629-6504; 1370 Church Hill Dr, New Braunfels, TX 78130. Home built in 1852, 26 mi NW of New Braunfels. The house was dismantled and rebuilt on Conservation Plaza in 1975. Carl Baetge was a Civil Engineer from Germany. Home was completely restored and is furnished with period pieces, mostly of Texas or German orgin. Operated as a museum by the New Braunfels Conservation Society.
DAS ANWESEN BED & BREAKFAST, EVENTS CENTER and PHARMACY MUSEUM:
866-526-1236; 360 Millie's Ln @ FM-306, New Braunfels, TX 78132. Includes event and wedding facilities.
dasanwesen.com

HERITAGE VILLAGE, MUSEUM OF TEXAS HANDMADE FURNITURE:
830-629-6504; 1370 Church Hill Dr, New Braunfels, TX 78130. An historic home and valuable collection of early Texas handmade furniture. The Museum showcases the unique German heritage of New Braunfels with special recognition of the accomplishments of German cabinetmakers that helped settle the area from 1845-1880. Costumed docents conduct tours that include the historic Breustedt-Dillen fachwerk house with 75+pieces of early Texas handmade furniture, white English ironstone collection, cabinetmaker's shop, and 1847 Reininger log cabin. Library of books about Texas & local history and early Texas Furniture. Gift Shop. Ten acres of grounds and covered pavilion with catering kitchen and restrooms available for rental. Tue-Sun 1-4p, closed Mon and Dec-Jan.
www.nbheritagevillage.com
;
nbcham.org/museum_of_texas_handmade_furnitu.htm
tsha.utexas.edu/handbook/online/articles/view/FF/lpf1.html
LINDHEIMER HOUSE:
830-608-1512; 491 Comal Ave, New Braunfels, TX, 78130. A small monument to a man credited with discovering several hundred plant species, including a milkweed, a loco weed, a mimosa, and a rock daisy. Antiques and period pieces, some that belonged to the self-taught botanist, fill the four small rooms of the wood and fachwerk house. Ferdinand Jakob Lindheimer (1801-1879) was the Father of Texas Botany, and a newspaper editor during War and Reconstruction. He was the man most responsible for New Braunfels being located by the Comal Springs. His 1852 half timber or Fachwerk home is fully restored with many original items and pieces of furniture. Operated as a museum by the New Braunfels Conservation Society.
MCKENNA CHILDREN'S MUSEUM:
830-620-0939; 386 W San Antonio St, New Braunfels, TX 78130-7939. A learning environment for children and families which stimulates thought, inspires imagination and prompts understanding through "hands-on" educational exhibits and programs which focus on fine arts, culture, history, science and technology.
www.nbchildren.org

THE NEW BRAUNFELS CONSERVATION SOCIETY:
830-629-2943; 1300 Churchill Dr, New Braunfels, TX 78130. Restored and furnishes 14 buildings circa 1849-187 to form a German Village called "Conservation Plaza". Open to the public.
nbconservation.org
NEW BRAUNFELS FIRE MUSEUM:
Fire Station One, on 1st block of Hill Street.
MUSEUM OF ART AND MUSIC:
830-625-5636; 1259 Gruene Rd, New Braunfels, TX, 78130. Dedicated to inspiring, educating, and enriching the life of the public by deepening the understanding of the human experience through the collection, preservation and exhibition of diverse cultural traditions focusing on visual art, folk art, craft, and music of the state of Texas.
nbmuseum.org
RAILROAD MUSEUM:
830-627-2447; 302 San Antonio St, New Braunfels, TX 78130. In the Old New Braunfels Depot (c 1891).
SOPHIENBURG MUSEUM:
830-629-1572; 401 W Coll St (at Academy Ave), New Braunfels, TX 78130. Preserve the history of the settlement of New Braunfels by "The Society for the Protection of German Emigrants to Texas" in 1844-1847 and the subsequent development of this city and area of Texas. Relates history through display of artifacts and early life in New Braunfels and written history of the area through thousands of collections of personal and public documents.
sophienburg.org
.
(THE) WAGENFUEHR HOME & BUCKHORN BARBERSHOP MUSEUM:
830-629-6504; 1370 Church Hill Dr, New Braunfels, TX 78130. A "collector's paradise." A "1900s" equipped barber shop contains literally hundreds of hand-carved miniature circus figures and pictures made from rocks. Operated as a museum by the New Braunfels Conservation Society.
HISTORIC GRUENE:
Pronounced "green". Once a significant cotton-producing community along the Guadalupe River, the economy is now supported primarily by tourism. Gruene lies entirely within the city limits of New Braunfels. Listed in the National Register of Historic Places. Featuring wine tasting, shopping, dining, dancing, and B&B's.
MAJOR RETAIL SHOPPING MALL OUTLETS:
On SE side of IH-35 at Exit 201 between New Braunfels and San Marcos. See description at San Marcos
Profile
LANDA PAKK:
Scenic city park with hundreds of artesian springs. Ride the miniature train in the most beautiful walking arboretum. Host to annual Wurstfest.
Landa Park
.
FRIO RIVER TUBING & WATER SPORTS:
CAMPING & HUNTING
ANCIENT LIVE OAK REFERENCE LANDMARK:
On FM-1120, Rio Frio. This ancient live oak is a bearing point from which all land in the town of Rio Frio has been platted since the beginning of this town. Famous Trees of Texas
Profile
ANGORA GOAT BREEDER'S ASSOCIATION MUSEUM:
Austin St, Rocksprings, TX. The story of Angora goats, mohair and their role in the Texas economy are told in this small museum. M-W-F, 9a-4p.
DEVIL'S SINKHOLE STATE NATURAL AREA:
A natural cave descending 150 feet in a sheer drop. A wildlife preserve and home to a large Mexican free-tailed bat cave; 7 mi N of town. See
Parks
, and
Bats
AUCTION BARN:
On US-281 at The Southwest Center.
OLD METHODIST CHURCH:
(circa 1876, now restored) on TX-962 E
JOSEPH BIRD DOUBLE LOG HOUSE:
(circa 1854, restored) on TX-962 E
ROUND MOUNTAIN STAGECOACH INN & STABLE:
(circa 1874, National Register of Historical Places) on TX-962 E
AQUARENA CENTER:
Exhibits explain the springs, and their flora and fauna. Glass bottom boat ride. Bird watching on the "Wetlands Boardwalk" along San Marcos River. Operated by Texas State University. 512-245-7570.
aquarena.txstate.edu
BELVIN STREET DISTRICT:
A few blocks W of the square. A collection of 19th century houses. Not normally open to the public - drive-by viewing only. Tour of Homes first weekend in May.
(THE FORMER, HISTORIC) CITY HALL AND FIRE STATION:
(c. 1915). Half block N of the square. Spanish Revival building typical of the period when fire stations shared space with other community services.
COMMEMORATIVE AIR FORCE CENTRAL TEXAS WING:
At the San Marcos Municipal Airport. Vintage military aircraft in the 1943 vintage wooden hangar, and museum. 512-396-1943.
MAJOR RETAIL SHOPPING MALL OUTLETS:
Bargain hunting at its best! On SE side of IH-35 at exit 200 between New Braunfels and San Marcos
PRIME SHOPPING OUTLETS:
3939 IH-35 S, #900; San Marcos, TX 78666. 512-396-2200; 800-628-9465; San Marcos is the largest outlet shopping destination in Texas! Additionally, the center is the 3rd most visited tourist attraction in Texas and was ranked the 3rd Best Place to Shop in the world as seen on ABC's "The View". With more than 10 million visitors a year from all over the world; it is a true shoppers haven with over 130 luxury and popular American brand names.
primeoutlets.com/locations/san-marcos.aspx
TANGER SHOPPING OUTLETS:
512-396-7446; 4015 IH-35 S, San Marcos, TX 78666.
tangeroutlet.com/sanmarcos
QUAIL CREEK GOLF & COUNTRY CLUB:
512-353-1665; 2701 Airport TX-21, San Marcos, TX 78666. Semi-Private, 18 holes, 6424 yds, par 72.
quailcreekgcc.com
(A.E. WOOD) SAN MARCOS NATIONAL FISH HATCHERY:
See
Parks
SAN MARCOS RIVER RECREATION:
San Marcos Parks & Recreation Dept: 512-393-8400
SAN MARCOS RIVER TUBING:
Lions Club tube rentals; The San Marcos River is one of the most loved family recreation areas;
tubesanmarcos.com
SAN MARCOS RIVER WALKWAY:
SCENIC DRIVE:
RR-32, "Devil's Backbone"
TEXAS STATE GOLF COURSE:
512-245-7593; 1351 Post Rd, San Marcos, TX 78666; 512-245-7593. Public, 9 holes, 2850 yds, par 34.
campusrecreation.txstate.edu/programs/golf.html
TEXAS STATE UNIVERSITY:
601 University Dr, San Marcos, TX 78666. 512-245-2111. 18,822 students. Founded in 1899, opened in 1903 as Southwest Texas Normal School. On the hill North and East of the square on the 11 acres.
txstate.edu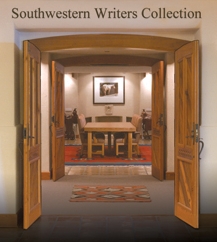 WITTLIFF GALLERY OF SOUTHWESTERN & MEXICAN PHOTOGRAPHY AND SOUTHWESTERN WRITERS COLLECTION:
Alkek Library, Texas State University, 512-245-2313.
WONDER WORLD PARK:
512-392-3760; 1000 Prospect St; San Marcos, TX 8666.
wonderworldpark.com
; A one-of-a-kind Theme Park. Visitors have enjoyed touring the Balcones Fault Line Cave for 105+ years, and now, the park has many other attractions for family fun and entertainment. Enjoy a guided tour and discover the nation's only true example of an earthquake-formed cave deep underground and see up close the devastation of a major quake. Exit by the "Stratavator" and ride high into the sky to the Tejas Observation Tower. Be amazed by the Topsy-Turvy World of the Anti-gravity House where everything is backwards, even water flows up hill! Board the train and splash through the waterfalls of Mystery Mountain on your way to the Texas' largest Wildlife Petting Park (zoo). Educational and fun for all ages. Open daily, all weather. Free picnic grounds, shops, restaurant. Located just off IH-35 (Exit 202 Wonder World Dr.)
21 parks, including the Children's Park, along the river.
PECANS:
See directory below for local pecan companies. "Pecan Capital of the World".
HISTORIC BRIDGES:
SAN SABA COUNTY CR-204 BRIDGE:
Over San Saba River. Circa 1910; 137 ft, "Through-Truss" bridge, 5 mi NW of San Saba.
Photos & Map
SAN SABA COUNTY CR-110 BRIDGE:
"Through-Truss" bridge, 125 ft, over San Saba River on CR-110. Circa 1939.
Photos & Map
BEVERIDGE BRIDGE:
Suspension bridge over San Saba River, circa 1896, 2 mi NW of downtown on CR-200, just N of the Wedding Oak. Single lane, 140 ft, wood deck, swinging bridge, now closed to vehicle traffic but open to pedestrian traffic. Go out 9th street for .25 mi. Turn L onto China Creek Rd and proceed about 1 mi.
Photos & Map
REGENCY BRIDGE:
Suspension bridge over Colorado River, 143 ft, circa 1939 re-erected, at the Mills County line on CR-433 in northern part of the county, is the only suspension bridge in Texas still open to vehicle traffic.
Photos & Map
SAN SABA WEDDING OAK (aka "The Marriage Oak", "The Matrimonial Oak"):
A legendary Indian site, where a huge live oak tree shades both sides of the road, that has been the location of marriage services for Indians and then settlers. On the way to Beveridge Bridge. Summarized from Texas Escapes article.
MILLICAN PECAN MOTHER TREE:
The pecan tree from which hundreds of trees in San Saba County were grafted. Millican Pecan is in business today where descendent's of E.E. Riesen carry on the family tradition by selling pecans for wholesale and retail.
pecancompany.com
SAN SABA COUNTY COURTHOUSE:
Built 1911, brick & sandstone, Texas Renaissance style
SAN SABA COUNTY MUSEUM:
325/372-5238; Housed in two 100-year-old log cabins, this museum interprets the county's rich history from settlement days to pecan fame. Open Sat-Sun. Apr-Oct or by apmt. Sun 1:30-4:30p.
SAN SABA RIVER GOLF COURSE (Public, municipal, 18 holes):
325-372-3212; 723 CR-102, San Saba, TX 76877.
golfsansaba.com
RISING STAR VINEYARDS & WINERY:
325-452-3033; 301 TX-190 E, Richland Springs, TX 76871. 3 blocks E of Hwy 45. Between San Saba & Brady; Tasting room, event room, gift shop. Sat 11 - 6, Sun noon to 4p. Evenings Under the Stars are Saturdays, weather permitting, from 6 to 9p. Also in Rising Star north of Brownwood.
risingstarvineyards.com
MILL POND PARK:
325-372-3131; TX-190, San Saba, TX. City park including San Saba Mill House and Water Wheel, picnic sites, pool, pavilion, campground with RV hookups and more.
RISIEN PARK:
325-372-3131; TX-190 E of San Saba, TX. Park is bordered on one side by the beautiful San Saba River and full of shady pecan trees. Picnic sites, playgrounds, a pavilion, volleyball courts and a rock amphitheatre. Tent Camping Only.
SAN SABA CITY PARK:
Thomas Stewart Dr, SE corner of town.
SISTER CREEK VINEYARDS & WINERY:
830-324-6704;
sistercreekvineyards.com
SISTERDALE DANCE HALL & EVENT CENTER:
210-508-0344;
sisterdaledancehall.net
BARTON CREEK-LAKESIDE GOLF COURSE (18 hole, private):
210-693-4589; 830-693-4589; 1800 Clubhouse Hill Dr, Spicewood, TX 78669
CYPRESS VALLEY CANOPY TOURS:
512-264-8880; This eco-adventure destination offers zip line tours, ropes challenges and places to swim and picnic.
cypressvalleycanopytours.com
.
DEAD MAN'S HOLE:
(by Mike Cox in Texas Escapes):
"The expression 'he just dropped out of sight' had both figurative and literal meaning in Burnet County during and after the Civil War. Common belief held that folks who disappeared in that area often ended up at the bottom of a 150-plus-deep foot limestone fissure south of Marble Falls aptly named 'Dead Man's Hole.' "
. Discovered in 1821, this 155 foot deep cave is believed to have been the dumping place for victims hung from an oak tree over the hole. Self-guided tour, always open. SE of Marble Falls, nearer Spicewood, on CR-401 between TX-71 and FM-2147 E.
GRELLE RECREATION AREA:
On Lake Travis. LCRA park (see
Parks & Lakes
)
KRAUSE SPRINGS:
830-693-4181; Best known for mini-falls and natural cold spring pool. Also features spring-fed swimming pool, picnic area, hiking, RV and tent camping, showers and restrooms. Favorite camp site for scout troops, clubs and primitive retreats. SE of
Marble Falls
on TX-71 in Spicewood.
LAKE TRAVIS AREA
(see
Parks & Lakes
)
PEDERNALES GOLF COURSE (9 Holes/Semi-Private):
512-264-1489; Rt 1, Briarcliff 2, Spicewood, TX 78669
SPICEWOOD VINEYARDS:
830-693-5328; 1419 Burnet CR-409, Spicewood, TX 78669;
spicewoodvineyards.com
; Wed-Sat 10-5; Sun 12-5; or by appt. Tours, tasting room, gallery, and gift shop. Picnic on the veranda. Special event facilities available for weddings, reunions, retreats and conference groups. Home of award-winning 100% estate handcrafted wines. Directions: SE of Marble Falls. From Hwy 71 go S 7/10 mi on CR 408, then W 1.5 mi on CR 409.
STONE HOUSE VINEYARD:
512-264-3630: 24350 Haynie Flat Rd, Spicewood, TX 78669;
stonehousevineyard.com
; Fri-Sun 12-5; or by appointment. Beautiful setting on Lake Travis surrounded by vineyards producing award-winning wines, 35 minutes from Austin. Winery is constructed of massive limestone blocks making it functional as well as a building of artistic architectural merit. Directions: Located off Hwy 71 W, turn onto Paleface Ranch Rd, 3 mi to junction, R onto Haynie Flat Rd.
GUADALUPE RIVER STATE PARK:
1,939-acre scenic park is bisected by the beautiful, cypress-edged river that flows over natural rapids in the park. Limestone bluffs and huge bald cypress trees cling to the banks, the focal point of this park. Wildlife includes white-tail deer, coyotes, foxes, and armadillos; juniper thickets offer nesting habitat for rare golden-cheeked warbler. Tent and RV camping, rest rooms, showers, picnic sites, plus fishing, canoeing, swimming, and hiking are available.
This park has 4 mi of river frontage and is located in the middle of a 9 mi stretch of the Guadalupe River. Activities include canoeing, fishing, swimming, tubing, picnicking, hiking, camping, bird watching and nature study. Park has a 5 mi equestrian and mountain biking trail. No equestrian camping. Adjacent to Honey Creek State Natural Area.
Location:
In
Comal
and
Kendall
counties, 30 mi N of downtown San Antonio and 13 mi E of
Boerne
, off TX-46, on 3350 Park Rd 31;
Spring Branch
, TX 78070;
830-438-2656;
tpwd.state.tx.us/park/guadalup/guadalup.htm
HONEY CREEK STATE NATURAL AREA:
2294 acres, opened 1985. Entry into Honey Creek is for guided tours only. The diverse geology, flora, and fauna make Honey Creek a special place for all visitors using 2 mi of nature/interpretive trails. Saturday morning walking tour begins at 9a. Reservations required. No facilities except for trails.
Location:
c/o Guadalupe River State Park, 3350 Park Rd 31,
Spring Branch
, TX 78070.
830-438-2656;
tpwd.state.tx.us/spdest/findadest/parks/honey_creek
Friends Group:
honeycreekfriends.com
PARKS:
Lyndon B. Johnson National Historical Park; LBJ State Park & Historic Site; Texas White House; Sauer-Beckmann Living History Farm; Historic Junction School. See full details below and in
Parks
PEACHES:
Buy or pick-your-own "Stonewall" peaches at the many orchards and stands for which this region is famous. See full details below and in
Peaches
WINERIES:
Self or guided tours and tastings at Becker Vineyards, Grape Creek Vineyard, Pedernales Cellars, Woodrose Winery. See full details below and in
Wineries
PART OF HIGHLAND LAKES AREA:
See
Highland Lakes
LOWER COLORADO RIVER AUTHORITY (LCRA) and TEXAS state parks in the region (see Parks)
LOST CREEK VINEYARD:
325-388-3753; 1129 RR-2233, Sunrise Beach, TX 78643;
lostcreekvineyard.com
; Mon-Sat. 10-5; Sun 12-5. Often referred to as an "Oasis" in the Texas Hill Country. Owner and winemaker David Brinkman has a passion to create the finest wines possible that have been rewarded with 36 medals, both local and international, in less than 3 short years. Picnics, tours, tastings. Directions: On RR-2233 1 mi N of TX-71; 55 mi w of Austin, 19 mi E of
Llano
, W of
Marble Falls
. Lost Creek Vineyard Tasting Room: 830-868-7828. 302 West Main,
Johnson City
, TX 78636. Open Thur-Fri: Noon-5p, Sat-Sun: 10a-5p
(THE) HILLS GOLF COURSE:
512-261-7272; 26 Club Estates Parkway, Lakeway, TX 78738. Private. 18 holes, 7030 yds, par 72. See above web site.
Part of Highland Lakes area (see
Highland Lakes
)
Lower Colorado River Authority (LCRA) and state parks in the region (see
Parks
)
FALL CREEK VINEYARDS:
325-379-5361; 1820 CR-222, Tow, TX 78672.
fcv.com
; Mon-Fri 11-4; Sat 11-5; Sun 12-4. Fall Creek Vineyards, established in 1975, is the oldest vineyard & winery operation in the Hill Country and founder of the region. Fall Creek Vineyards is at the forefront of the Texas wine industry in demand and accolades for its award-winning wines. Located on the northwest shores of Lake Buchanan, boat cruises are available to magnificent Fall Creek Falls lake - level permitting. Tasting, tours, picnic facilities with light fare for sale and gift shop offered daily.
TWIN SISTERS DANCE HALL:
US-281, Twin Sisters, TX 78606
RIVER OAKS GOLF COURSE OF UTOPIA:
581 CR-363, Utopia, TX 78884; 830-966-5577. Public, 9 holes.
utopiagolftexas.com
SABINAL CANYON MUSEUM:
210-355-3835; Utopia, TX 78884. From intersection of School St and RR-187 in Utopia, go 1/2 block S on RR-187. The museum is on the right (west) side of the road. Exhibits pioneer farm implements and household items, Indian artifacts, geological exhibits, including fossils and minerals from the Sabinal River Canyon. World War II exhibit.
TravelTexas Profile
Local city parks include:
UTOPIA CITY PARK
LOST MAPLES STATE NATURAL AREA:
830-966-3413; From Vanderpool, go N on FM-187 to LMSNA. Besides bigtooth maples the sycamores thrive on the waters of the Sabinal River. Fall foliage usually peaks in early November.
tpwd.state.tx.us/park/lostmap
SCENIC DRIVE: FM-337:
Both east and west spans some of the Hill Country's most spectacular scenery-wooded steppes and tiny secluded valleys. This route is the only way to enter Vanderpool, and is rated one of the top ten scenic drives in the state.
LONE STAR MOTORCYCLE MUSEUM:
830-966-6103; At 36517 FM-187, Vanderpool, TX 78885. 4 mi N of Vanderpool. Free admission. More than 50 vintage (1910s-1980s) motorcycles on display, plus lots of motorcycling posters & memorabilia.
lonestarmotorcyclemuseum.com
WARING GENERAL STORE and DANCE HALL:
FM-1621, Waring, TX 78074,
donstrangeranch.com
WELFARE CAFE:
welfaretexas.com/cafe.html
. Web site has history of town.
WILLOW CITY LOOP:
This popular 13 mile drive has scenic views around every windy turn up and down the back-roads of this rugged area, including a surprisingly large and beautiful canyon. This loop is particularly popular and outstanding when the wildflowers are in full bloom (especially bluebonnets, sometime in March-May, rain dependent), with lots of car and motorcycle traffic taking in the mosaic colors. Enter this loop on Hwy 16 at the Loop's NW corner (for a clockwise tour), or on RR 1323 in Willow City (for a counter-clockwise tour). Private land on both sides of this loop, so no stomping or picnicking in the fields of wildflowers. There is a good place to stop in the bottom of the canyon, stretch your legs and enjoy the views.
Loop Map
; Google
Map
;
Article
, Wildflower
Photos
Known for the small, unique shops, artist community, and large number of bed and breakfasts.
BELLA VISTA OLIVE RANCH:
512-847-6514; 3101 Mt Sharp Rd, Wimberley, TX 78676. Over 1,000 producing olive trees, a frantoio (olive press), vineyard, winery, a Red Brangus herd and many seasonal fruit and vegetable specialties. Same hours as below.
texasoliveoil.com
BELLA VISTA CELLARS:
512-487-6514; 3101 Mt Sharp Rd, Wimberley, TX 78676. Handcrafted hill country varietals using locally grown grapes. Offers a selection of seasonal fruit wines including our popular Blackberry Wine. Tasting room. Thur-Sat 10a-1p. Sat tour at 10a & 1p. Sun noon-4p, Sun tour at noon. Group tours Mon-Wed.
texasoliveoil.com/BellaVistaCellars.htm
CENTRAL TEXAS BONSAI EXHIBIT/JADE GARDENS:
Free public exhibit created to introduce the art of bonsai. Many varieties of trees in different shapes and styles on display. Part of JADE GARDENS in Wimberley. Located on RR-12, not far from the San Marcos exit off of IH-35.
wimberley-tx.com/~bonsaijg/tree.html
CORRAL THEATRE:
512-847-5994. Rocky River Ranch, 100 Flite Acres Rd, Wimberley, TX.
corraltheatre.com
. The original walk-in outdoor theatre. First-run movies under the beautiful Texas sky.
EMILY ANN THEATRE:
512-847-6969; 1101 FM-2325, Wimberley, TX 78676. An outdoor theatre venue for the performing arts.
emilyann.org
.
HUNTERS CHASE FARMS:
512-842-2246; 4909 Lone Man Mountain Rd, Wimberley, Texas 78676. Horse lessons, boarding, training, sales, camps.
hunterschasefarms.com
OLD BALDY:
To view panoramic views of Wimberley, watch the sunset or have a romantic picnic dinner, climb the 200+ steps up to the top of Old Baldy, which is the oldest and most romantic spot in the Texas Hill Country. You can bird watch, watch the fireworks in July and January or just enjoy the quiet surroundings.
texashillcountryreservations.com/oldbaldy.html
SEE LAVENDER FARMS:
see listings below and:
Area Lavender
WIMBERLEY GLASSWORKS:
800-929-6686; 6469 RR-12, Wimberley/San Marcos, TX 78666. Creates hand blown art glass Lighting, Home Decor, and Gifts, One Piece at a Time.
wgw.com
WIMBERLEY PLAYERS:
512-847-1592; 450 Old Kyle Rd, Wimberley, TX 78676.
wimberleyplayers.org
. Entertaining Wimberley and Surrounding Communities since 1979. Focused on bringing the magic of theatre to the community.
WIMBERLEY ZIPLINE ADVENTURES:
Jim Winn Ranch: Winn Valley Dr, Wimberley, TX 78676; 512-847-9990;
wimberleyzipline.com
BLUE HOLE PARK:
512-847-0025; 333 Blue Hole Ln, Wimberley. City park and famous swimming area, fed by Jacobs Well (see above).
friendsofbluehole.org
QUICKSAND AT WOODCREEK GOLF COURSE:
512-847-9700; #1 Pro Ln, Wimberley, TX 78676. Public, 18 holes, 6470 yds, par 72. Web:
golftexas.com/departments/coursereviews/quicksand-woodcreek.htm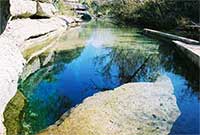 JACOB'S WELL:
jacobswellspring.org
. This historic Trinity Aquifer natural spring known as Jacob's Well has the longest underwater cave in Texas. A favorite swimming hole. Jacob's Well flows into Cypress Creek 3 mi NW of Wimberley near Woodcreek. It flows from an inclined shaft 40 meters deep along a fault line in the Edwards Plateau. In the past the 3 meter width of the shaft and the multi-chambered cave at its bottom attracted scuba divers. The well claimed several lives and has been closed to diving. In 1948 Woodcreek Properties made the well pond a part of its resort development. Jacob's Well and its watery cave figure as an important locale in Stephen Harrigan's 1984 novel of that name. Free Sat tours at 10a and by appointment. Access permitted only during tour hours. Annual festival in Sep. See full details in our Portal Profile at
Parks & Lakes
.
ATTRACTIONS VERY NEAR THE HILL COUNTRY
See Portal profiles for:
Austin
and
San Antonio

SANDY ROAD GUEST HAUS: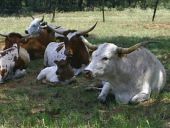 Upscale Western-style Guest House Lodging
in a Beautiful Ranch Setting in the Gorgeous Texas Hill Country

Reservations & Information: 281-300-7177
9242 RR 1320 (Sandy Road), Johnson City, TX 78636

Web: SandyRoadGuestHaus.com Email: info@SandyRoadGuestHaus.com

Come Relax & Enjoy!


---
---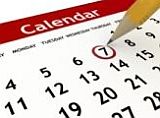 Click
for Hill Country:
»
ACTIVITIES
»
ATTRACTIONS
»
ADVENTURES
»
MARKET DAYS
»
MAPS
---

---
Check us out on


---

---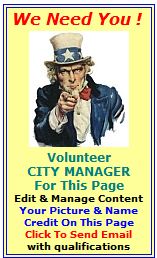 ---

Protect Your Computer Files With


On-Line storage
of your data.

Easy!

Just click
to get started.


---
---

---