Click for Free
Calendar
Event Submission
---
Click here for your



basic Portal listing!
---

---
FIRST CHOICE SHUTTERS
& BLINDS





Serving South-Central Texas
Quality window treatments
Plantation shutters, blinds, screens, shades
Wood and faux wood available
Made in America

Locally owned & operated:
Tim & Barbara Van Tassel
830-201-2151
timgvant@hotmail.com
Johnson City, TX
Call, email or text with questions or to arrange a no-obligation visit and quotation at your place.
Facebook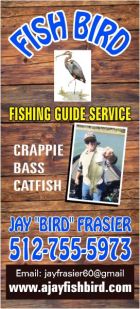 ---
Carport & Tent Spot Rentals In Rural Kerrville During Eclipse
---
COFRAN'S PC &
TECHNOLOGY HELP
- - -
Online, Remote
Tech Support &
Call-In Help Desk

Virus? Frustrated?
PC slowed down?
We can tune it up!
Internet, Wi-Fi,
Websites,
Email, Outlook,
Social Media,
Tech Marketing,
Excel, Quickbooks,
Zoom, TeamViewer,
Carbonite
** PC Repairs **

BSEE, MBA, xCPA
Veteran, Tech Officer

281-300-7177
Johnson City
info@cofran.com
www.cofran.com
---
"The Web Guy"
WEB SITE DESIGN
& MAINTENANCE
Economical
& Effective
281-300-7177
Johnson City, TX
info@cofran.com
cofran.com


---

"Business Coach"

COST CONTROLS,
EFFICIENCY &
BETTER STRATEGIES
= MORE PROFIT !!

Economical
& Effective

281-300-7177
Johnson City, TX

info@cofran.com
cofran.com


---
---

---
Cofran's Texas . . .
Hill Country Portal
A Powerful Information Database & Gateway Service for the Texas Hill Country
Use above MENU To Find "All Things In The Texas Hill Country"

City Profile For:
BARKSDALE, Texas
"no slogan"
Population (2000): 1,081Elevation: 1,499 ftArea: undefined smCounty:
Edwards
Zip Code: 78828Area Code: 830-597Time Zone: CST
Coordinates: 29° 43' 31" N, 100° 2' 2" W
Location: SE part of county; 26 mi W of
Leakey
Highways: TX-55, FR-335Rivers: NuecesLakes:
Quick Link To:
Directory Listings In This Town
BACKGROUND INFORMATION
CITY:
Not incorporated; Web: None
CHAMBER, TOURISM & ECONOMIC DEVELOPMENT:
NEIGHBORING TOWNS:
4 mi N of
Camp Wood
; 25 mi SE of
Rocksprings
; 7 mi SW of
Vance
PRINCIPAL BUSINESS:
Ranching, tourism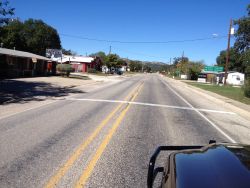 MAJOR ATTRACTIONS:
See full details in
Directory
below
Hunting, fishing: See Portal
"Twisted Sisters" Scenic Drives & Motorcycle Routes: RM-337, RM-335, RM-336. The Sisters travel about 96 mi through massive timbered hills, steep cliffs, secluded valleys and streams. "One of the fifteen most scenic spots in Texas" (Texas Highways, Nov 1998). Article
NEARBY & HILL COUNTRY-WIDE ATTRACTIONS:
See
Attractions
Some of the very nearby attractions include: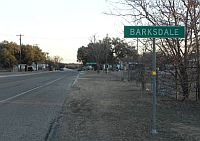 PARKS:
There are many state parks in the greater area as profiled on the
Parks
page. These nearby parks include:
Concan: Garner State Park
Kickapoo: Kickapoo Cavern State Park, Kickapoo, 28 mi W of Camp Wood, and just outside the Hill Country
Vanderpool: Lost Maples State Natural Area
Local city parks include: None
EVENT CALENDAR:
None
For full details on these and nearby events see
Festivals & Major Events
,
Trade Days & Farmers Markets
and calendars on our other focus topic pages accessible from the menu above.
WEATHER:
Local Weather
;
Hill Country-wide Weather
MEDIA COVERAGE:
See full details in
Directory
below.
On-Line News: Google News
Newspapers, Radio/TV, Articles & Videos:
MAPS:
Google
,
GeoHack
HISTORY: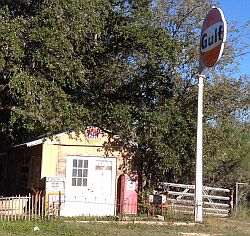 Handbook of Texas Online
:
"... is on the Nueces River at the intersection of Farm Road 335 and State Highway 55, twenty-four miles southeast of Rocksprings in southeastern Edwards County. The community is named for Lewis Barksdale, who patented a league and a labor of land in the area in 1847. Settlers moved into the area in the 1860s, and Barksdale moved to the site of the community in 1869. A settlement gradually developed there, and in its early years the community was called Dixie, for nearby Camp Dixie. By 1880 Dixie had a saloon, a hotel, and a small store. When the community applied for a post office in 1882, its residents were told that another community named Dixie had already secured that name, so citizens selected Barksdale as the name. In 1884 the community had a population of twenty, and by 1890 Barksdale had two general stores and a grocery. School was held in a small house until a school building was erected in 1887; the new schoolhouse doubled as a church. Over the next two years a gristmill and a cotton gin were built in the town, and by 1900 Barksdale had 106 residents. The community received telephone service soon thereafter, a Baptist church was built in 1906, and a bank opened in 1907.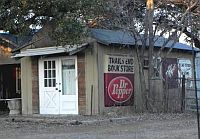 Barksdale's population was estimated at 200 through the mid-1940s. In 1948 the town had a school, a church, and five businesses, but by 1950 its population had fallen to an estimated 150. A Methodist church was built there in 1950, and a new high school building was built in 1957. By 1973 Barksdale consisted of the high school, two businesses, several dwellings, and a cemetery, and its population had fallen to seventy-one. The town grew dramatically in the late 1980s as a number of housing subdivisions were built there. In 1990 Barksdale had 617 inhabitants and six businesses. By 2000 the population grew to 1,081 with sixteen businesses."
Founded 1860s. Named for Lewis Barksdale, an early settler.
PRIOR CITY NAMES:
Dixie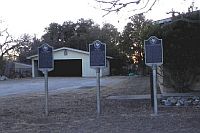 HISTORICAL MARKERS:
See Texas Historical Commission's Historic Sites Atlas:
atlas.thc.state.tx.us
. Includes interactive map plus detailed descriptions of historical markers, cemeteries, museums, all searchable by county.
•
Dixie Settlement
•
Nix Mill
•
The Pioneer Coalsons
CEMETERIES:
See THC Historic Sites Atlas above.
•
Barksdale Cemetery
AVAILABLE SERVICES:
Gas: no; Convenience Stores: no; Restaurants: yes; Lodging: yes; Grocery Stores: no; Banks: no; Vehicle Repair: no; Hospital: no; Med Clinic: no; Post Office: yes; Public Schools: yes; Cemetery: yes
PORTAL WEB CAM GALLERY:
Barksdale
OTHER PROFILES:
City Data (not available);
Texas Escapes
;
Wikipedia
NOTES:
We welcome inquiries, comments and submission of updates, additions, corrections
& digital photos, without compensation. Send to:
editor@HillCountryPortal.com
Back To >> TOP OF PAGE & MAIN INDEX
BUSINESS & ORGANIZATION DIRECTORY
CHURCHES

COWBOY CHURCH IN THE NUECES RIVER CANYON:
830-234-3180; TX-55 N, Barksdale, TX 78828

FIRST BAPTIST CHURCH OF BARKSDALE:
830-234-3646; 200 Church St, Barksdale, TX 78828
HOUSE OF PRAISE:
830-234-4242; TX-55, Barksdale, TX 78828. (Inter-denominational)

FIRST UNITED METHODIST CHURCH:
830-683-3135, Barksdale, TX 78828


EMERGENCIES
(Police, Fire, EMS/Medical)
Dial 911

CRIME STOPPERS-REPORT ANONYMOUSLY:
1-800-222-8477; or click:
Stoppers

BARKSDALE VOLUNTEER FIRE DEPT:
TX-55, Barksdale, TX 78828
GOVERNMENT SERVICES
LOCAL CITY GOVERNMENT:
Unincorporated
LOCAL COUNTY GOVERNMENT:
Click:
Edwards County Government Offices
NCCISD TAX OFFICE:
830-234-3480; Barksdale, TX 78828
STATE & FEDERAL GOVERNMENT:
For offices that represent the Hill Country,
click:
Texas & Federal Government Offices

US POSTAL SERVICE (USPS):
800-275-8777;
usps.com
. Local post office: 830-234-3617; 25594 TX-55 S, Barksdale, TX 78828. Mon-Friday 7:45a to 11:30a and 12 to 3:45p; Sat Window Hours 8:30a-10:30a

CRISIS HOTLINES: click Hotlines-Emergencies


DAY & SEASON HUNTING OPPORTUNITIES:
See full list of leases for this town at:
Hunting & Fishing
LEDGEWATER:
830-234-3424; Barksdale, TX 78828
LOST CANYON RETREAT CENTER:
830-234-3250; Barksdale, TX 78828. Located on the outskirts of Barksdale. Groups welcome to this ecumenical retreat. Quietness, cabins, and a river view.
NUECES RIVER MOTEL:
830-234-3648; TX-55, POB 145, Barksdale, TX 78828. Located N of Barksdale by the river. Doubles and kitchenettes available.
MISCELLANEOUS GOODS & SERVICES
BARKSDALE FREEDOM FARMS
830-234-3284; POB 44, 202 CR-360, Barksdale, TX 78828.
freedomfarms.org
. A place for you and your horse to spend the night, rest, and trail ride. Indoor and outdoor arena with facilities for overnight horse accommodations. The human overnighters can stay in one of the rustic cabins. Dedicated to sharing the Gospel. Christian horse camps, lessons, and Cowboy Church services take place during the year. Christian Summer Horse Camp, July-Aug: Instruction in barrel racing, poles, safety, & horsemanship, bible study, swimming, trail rides, hiking, archery, & more.
(THE) CANYON BROADCASTER:
830-597-2236; POB 674, TX-55, Barksdale, TX 78828.
FB
. Weekly newspaper
CONNIE'S CREATIONS:
830-234-4191; Barksdale, TX 78828
(THE) COUNTRY LIFE OUTFITTERS ICE:
830-834-0902; Donny Wade
DOUBLE D RANCH:
830-234-3254; Barksdale, TX 78828
DOUGLAS BERRY:
376 Cox Ln, Barksdale, TX 78828. Lavender farm
DRESSLER VETERINARY SERVICES:
830-234-4101; 963 CR-380, Barksdale, TX 78828
FTW RANCH:
830-234-4366; Barksdale, TX 78828
GLEANNLOCH FARMS:
830-234-3670; Barksdale, TX 78828
H&R BLOCK:
830-234-3332; 25743 TX-55 S, Barksdale, TX 78828.
hrblock.com
HAIR BY PAIGE SALON:
737-351-2788; 698 Ray McDonald Ranch Rd, Barksdale, TX 78828.
Facebook
3rd gate
HEALTH RETREAT:
830-234-3610; Barksdale, TX 78828
JO JAN VAN:
830-234-3273; Hc 1 Box 33, Barksdale, TX 78828
PAMELA KAY SANDERS:
830-683-5774; 1950 Indian Springs Dr, Barksdale, TX 78828. Private Investigation Agency
PATTERSON KNIVES:
830-234-3586; FR-335, Barksdale, TX 78828-0246.
pattersonknives.com/knifegallery.html
. Knife maker
RAY ROSS AUCTIONEER:
830-234-3618; Barksdale, TX 78828
ROCKIN' B TRUCKING:
830-2279-9640; Barksdale, TX 78828
SPRING CREEK RANCH:
830-234-3180; Barksdale, TX 78828
TEXORADO RANCH:
830-234-3264; Barksdale, TX 78828 78828
TOM TAYLOR TRUCKING:
830-234-7274; 25622 TX-55 S, Barksdale, TX 78828
NON-PROFIT & PUBLIC SERVICE ORGANIZATIONS
BARKSDALE CEMETERY ASSOCIATION:
830-234-1551; Barksdale, TX 78828
BARKSDALE CIVIC ASSOCIATION:
830-333-9455; POB 124, Barksdale, TX 78828.
Facebook
. Meets 3rd Thurs at 6:30p, at Mary B Powers Hall, located on Taylor St across from Nueces Canyon High School. barksdalecivic@gmail.com

CAMP FAWCETT FOUNDATION:
830-703-0528; 508 S High St, Uvalde, TX 78801.
campfawcett.org
. Located in Barksdale (about 1 mi from town), and established in 1928; oldest Scout camp serving youth in Texas.
MARY B POWERS HALL:
Barksdale, TX 78828. Meeting facility at Nueces HS campus
NUECES CANYON PUBLIC LIBRARY:
830-234-4228; Barksdale, TX 78828.
Facebook
>
THREE SOJOURNERS:
830-234-3156; Barksdale, TX 78828
CASEY REALTY:
830-234-3123; 2521 CR-380, Barksdale, TX 78828.
caseytexashillsrealty.com
LOCKHART REAL ESTATE:
830-234-3415; 10351 FR-335, Barksdale, TX 78828.
jlockhartrealestate.com
RESTAURANTS-DINING-BEVERAGES-ENTERTAINMENT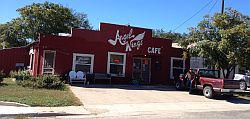 ANGEL WINGS CAFE:
TX-55 N, Barksdale, TX 78828
BARKSDALE COFFEE COMPANY:
830-282-1616; 25775 TX-55 S, Barksdale, TX 78828.
barksdalecoffee.square.site
. At the Nueces River Retreat
(THE) CHICKEN COOP GRILL:
830-234-3244; TX-55 N, Barksdale, TX 78828.
Facebook
DANA'S HOTDOG HOUSE:
830-234-5500; TX-55 N, Barksdale, TX 78828
RETAIL SHOPPING
COUNTRY SEWN CREATIONS:
830-234-3346; Barksdale, TX 78828
KAREN ANN ORIGINALS:
830-234-3586; 25743 TX-55, Barksdale, TX 78828. Jewelry, Patterson knives
STEVE'S COUNTRY STORE:
830-234-3663; TX-55 & FR-335, Barksdale, TX 78828
TAYLOR MADE SADDLES:
830-234-3322; N TX-55, Barksdale, TX 78828
SCHOOLS

NUECES CANYON CONSOLIDATED INDEPENDENT SCHOOL DISTRICT (NCCISD):
830-234-3514; 200 Taylor St, Barksdale, TX 78828.
nccisd.net
"Panthers", Blue and White. UIL: Conf 1. Mid and high school facilities and administration.
See Camp Wood for elementary school and sports facilities.


CALL or e-Locate BEFORE YOU DIG!
Free Texas 811 Locator
1-800-344-8377
www.texas811.org


BARKSDALE WATER SUPPLY CORP:
830-234-1550; Barksdale, TX 78828
HILL COUNTRY-WIDE UTILITY PROVIDERS:
For Hill Country area
utility service providers
(electric, gas, water, sewer, trash),
telecom providers
(land lines, cellular service, TV, internet), and related services (package delivery, newspaper, etc.), click:
Utilities & Telecom

SANDY ROAD GUEST HAUS: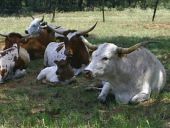 Upscale Western-style Guest House Lodging
in a Beautiful Ranch Setting in the Gorgeous Texas Hill Country

Reservations & Information: 281-300-7177
9242 RR 1320 (Sandy Road), Johnson City, TX 78636

Web: SandyRoadGuestHaus.com Email: info@SandyRoadGuestHaus.com

Come Relax & Enjoy!


---
---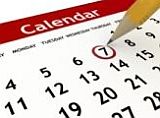 Click
for Hill Country:
»
ACTIVITIES
»
ATTRACTIONS
»
ADVENTURES
»
MARKET DAYS
»
MAPS
---

---
Check us out on


---

---

---
Texas Walks . .
What's Raised Here,
Stays Here! 100% local!!
5 locations in
Central Texas
September and October.
Corporate sponsorship
& team/individual
registrations now available.
---
---
Affordable Pre-paid Emergency Air Transport Service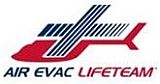 Click image for details
Protection starts at $65/yr
---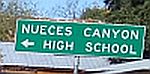 ---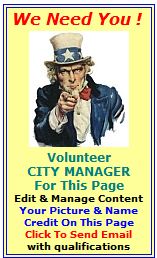 ---

Protect Your Computer Files With


On-Line storage
of your data.

Easy!

Just click
to get started.


---
---

---