Click for Free
Calendar
Event Submission
---
Click here for your



basic Portal listing!
---

---
FIRST CHOICE SHUTTERS
& BLINDS





Serving South-Central Texas
Quality window treatments
Plantation shutters, blinds, screens, shades
Wood and faux wood available
Made in America

Locally owned & operated:
Tim & Barbara Van Tassel
830-201-2151
timgvant@hotmail.com
Johnson City, TX
Call, email or text with questions or to arrange a no-obligation visit and quotation at your place.
Facebook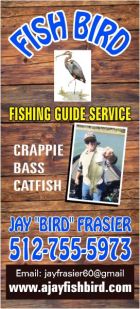 ---
Carport & Tent Spot Rentals In Rural Kerrville During Eclipse
---
COFRAN'S PC &
TECHNOLOGY HELP
- - -
Online, Remote
Tech Support &
Call-In Help Desk

Virus? Frustrated?
PC slowed down?
We can tune it up!
Internet, Wi-Fi,
Websites,
Email, Outlook,
Social Media,
Tech Marketing,
Excel, Quickbooks,
Zoom, TeamViewer,
Carbonite
** PC Repairs **

BSEE, MBA, xCPA
Veteran, Tech Officer

281-300-7177
Johnson City
info@cofran.com
www.cofran.com
---
"The Web Guy"
WEB SITE DESIGN
& MAINTENANCE
Economical
& Effective
281-300-7177
Johnson City, TX
info@cofran.com
cofran.com


---

"Business Coach"

COST CONTROLS,
EFFICIENCY &
BETTER STRATEGIES
= MORE PROFIT !!

Economical
& Effective

281-300-7177
Johnson City, TX

info@cofran.com
cofran.com


---
---

---
Cofran's Texas . . .
Hill Country Portal
A Powerful Information Database & Gateway Service for the Texas Hill Country
Use above MENU To Find "All Things In The Texas Hill Country"

City Profile For:
CAMP VERDE, Texas
Pronounced: "VER-dee"
"no slogan"
Population (2000): 41Businesses (2000):
Elevation: 1,611 ftArea: undefined smCounty:
Kerr
Zip Code: 78010Area Code: 830-634Time Zone: CST
Coordinates: 29° 53' 37" N, 99° 06' 16" W
Location: SE part of county;
6 mi SW of
Center Point
; 10 mi NW of
Bandera
; 10 mi S of
Kerrville
Highways: TX-173, FM-480; near TX-27
Creeks: VerdeRivers: NoneLakes: None
Quick Link To:
Directory Listings In This Town
BACKGROUND INFORMATION
CITY:
Unincorporated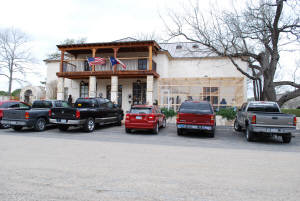 CHAMBER, TOURISM & ECONOMIC DEVELOPMENT:
Nothing formal
NEIGHBORING TOWNS:
Bandera
,
Comfort
,
Center Point
,
Kerrville
,
Medina
PRINCIPAL BUSINESS:
Ranching, tourism
MAJOR ATTRACTIONS:
See full details in
Directory
below.
Camp Verde General Store, Cafe & Post Office:
830-634-7722; campverdegeneralstore.com. Located 3 mi from famed Bandera Pass, on the north bank of Verde Creek. The present day, two story, limestone structure of Southern colonial design was constructed after a flood swept away the original building around 1900. "Distinctive products, a feast of choices, something for everyone" with humble beginnings as a supply store for nearby soldiers at Fort Verde. Open 7 days a week. Store. Dining. Patio. Restaurant in connecting building, built in 2012.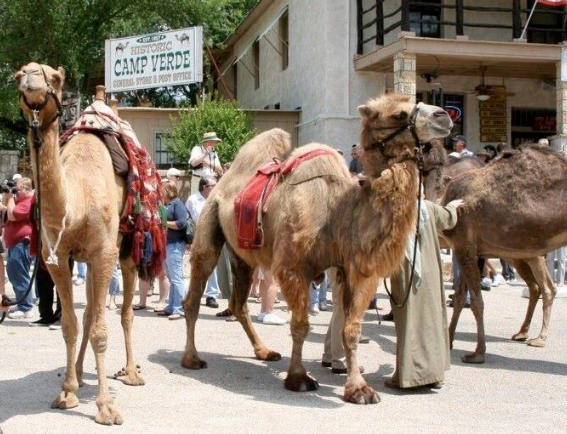 NEARBY & HILL COUNTRY-WIDE ATTRACTIONS:
See
Attractions
.
Some of the very nearby attractions include:
PARKS:
There are many state, county and LCRA parks in the greater area as profiled on the
Parks
page. These nearby parks include: Local city parks include: None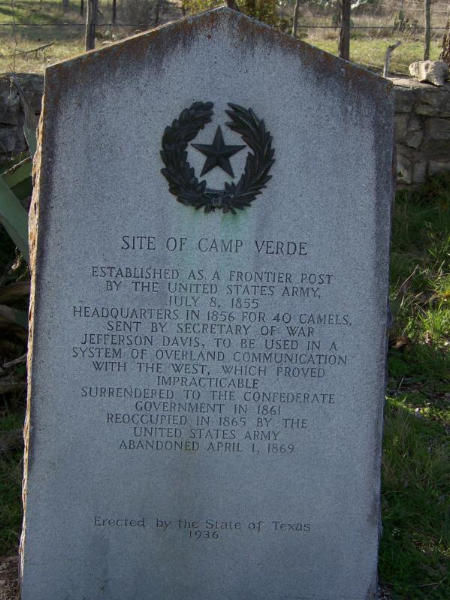 EVENT CALENDAR:
Dec: Camp Verde Open House, with Living Nativity Scene, including camels, Santa, live music, and complimentary food samples.
For full details on these and nearby events see
Festivals & Major Events
,
Trade Days & Farmers Markets
and calendars on our other focus topic pages accessible from the menu above.
WEATHER:
Local Weather
;
Hill Country-wide Weather
MEDIA COVERAGE:
On-Line News: Google News
Newspapers, Radio/TV, Articles:
MAPS:
Local Google
;
Hill Country Special Maps
HISTORY:
Handbook of Texas Online
: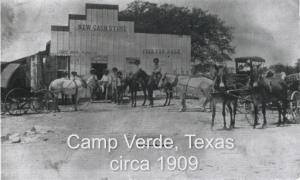 Regarding the town site of Camp Verde:
"It [Ed, the civilian town] grew around the Williams community store, established adjacent to Camp Verde in 1857 in order to serve the needs of soldiers stationed there. It is reported that the primary purpose of the store was to provide liquor to the soldiers because regulations prohibited the sale of intoxicants within the camp. When Williams's health failed in 1858, the store was acquired by Charles Schreiner, then a young rancher in the nearby Turtle Creek area, who had recently immigrated from Germany. Since the store was open only on army paydays, Schreiner and his brother-in-law, Caspar Real, supplemented the business by contracting with the federal government to supply wood and beef to the military post. A post office and store continued to provide irregular service to area inhabitants after the military camp was abandoned. Camp Verde's first post office was established in 1858, probably operated from Schreiner's store. It discontinued operation in 1866. Charles C. Kelley served as postmaster when the post office was reopened at a different location in 1887. In 1892, however, it too was closed. Walter S. Nowlin reestablished the store and post office in 1899. Both remained in operation in the mid-1980s. In 1974 Camp Verde's population was estimated to be forty-one. That figure was still recorded through 2000."
Regarding the abandoned military post called Camp Verde, adjacent to the town site: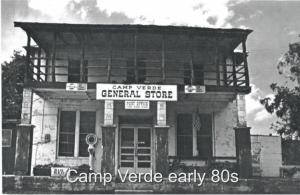 Handbook of Texas
:
"Camp Verde, a United States Army frontier post, was established on July 8, 1855, on the northern bank of Verde Creek three miles outside of Bandera Pass in southern Kerr County. In 1856 the camp was headquarters for forty camels sent by Secretary of War Jefferson Davis to be used in a system of overland communications. Albert Sidney Johnston started from Camp Verde in 1857 on his expedition against the Mormons in Utah. The post was surrendered to the Confederate government in 1861, reoccupied by United States troops in 1865, and abandoned on April 1, 1869. In 1949 a few ruins of the camel corrals and officers' quarters remained. The Texas Centennial Commission placed a marker at the site near Camp Verde, Texas, in 1936."
Wikipedia
:
"Camp Verde was a United States Army facility established in July 1856 in Kerr County, Texas along the road from San Antonio to El Paso. The camp was the headquarters for U.S. Camel Corps, which experimented with using dromedaries as pack animals in the southwestern United States. The camp was occupied by Confederates in 1861 and reoccupied by the Union Army in 1865. Camp Verde was abandoned on April 1, 1869. Ruins of the officers' quarters remain on private land. A Texas state historic marker and the entrance gate stand by the road. The site was added to the National Register of Historic Places on May 25, 1973."
Regarding the abandoned military post called Camp Verde, 3 miles below the first military site:
Handbook of Texas
:
"CAMP VERDE. A second Camp Verde, two miles below old Camp Verde in Kerr County, was established on March 31, 1862, by James M. Norris as a ranger station for the Frontier Regiment. It was manned by members of Charles S. DeMontel's company and served as a frontier outpost, probably until the consolidation of the regiment in March 1864."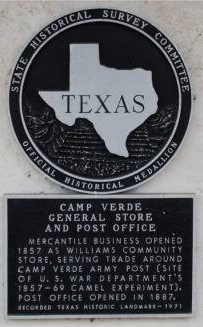 Regarding Bandera Pass, 3 miles south, it has provided a natural gateway for centuries for travelers through the rugged hills, principally to and from Kerrville and Bandera.
See more historical details in the Store's web site at:
campverdegeneralstore.com
Kerr County Historical Commission:
www.co.kerr.tx.us/historical
Book: "Camp Verde: Texas Frontier Defense", by Joseph Luther, The History Press, 2012
PRIOR CITY NAMES:
None
HISTORICAL MARKERS:
See photo on right and above.
See:
Photos
.
Bandera Pass, 3 mi S of Camp Verde, marker dated 1936.
CEMETERIES:
AVAILABLE SERVICES:
Gas: no; Convenience Stores: yes; Restaurants: yes; Lodging: no; Grocery Stores: no; Banks: no; Vehicle Repair: no; Hospital: no; Med Clinic: no; Post Office: yes; Public Schools: no; Cemetery:
OTHER PROFILES:
City Data (not available);
Texas Escapes
;
Wikipedia
PORTAL WEB CAM GALLERY:
Camp Verde
NOTES:
Roads: Main road in Camp Verde is Bandera Highway, aka TX-173 and FM-689
We welcome inquiries, comments and submission of updates, additions, corrections & digital photos,
without compensation. Send to Editor at:
editor@HillCountryPortal.com
Back To >> TOP OF PAGE & MAIN INDEX
BUSINESS & ORGANIZATION DIRECTORY


EMERGENCIES
(Police, Fire, EMS/Medical)
Dial 911

CRIME STOPPERS-REPORT ANONYMOUSLY:
1-800-222-8477; or click:
Stoppers
GOVERNMENT SERVICES
LOCAL CITY GOVERNMENT:
Unincorporated
LOCAL COUNTY GOVERNMENT:
See:
Kerr County Government Offices
STATE & FEDERAL GOVERNMENT:
For offices that represent the Hill Country,
see:
Texas & Federal Government Offices

US POSTAL SERVICE (USPS):
800-275-8777;
usps.com
Local post office: 830-634-2431; 285 Camp Verde E, Center Point, TX 78010-9800. Located inside the General Store.

CRISIS HOTLINES: click Hotlines-Emergencies


DAY & SEASON HUNTING OPPORTUNITIES:
See full list of leases for this town at:
Hunting & Fishing
.
MISCELLANEOUS GOODS & SERVICES
The General Store is the only business building remaining in "downtown" Camp Verde.
CAMP VERDE GENERAL STORE, CAFE & POST OFFICE:
830-634-7722; 285 Camp Verde Rd E, Camp Verde, TX 78010.
campverdegeneralstore.com
HILL COUNTRY BLUEBONNET:
830-634-2984; 3951 Bandera Hwy, Kerrville/Camp Verde, TX 78028.
hillcountrybluebonnet.com
. Home decor & imports
RATTLESNAKE SPRINGS RANCH:
830-634-3208; 515 Purple Star Dr, Camp Verde, TX 78010


CALL or e-Locate BEFORE YOU DIG!
Free Texas 811 Locator
1-800-344-8377
www.texas811.org


LOCAL UTILITY PROVIDERS:

BANDERA ELECTRIC COOPERATIVE (BEC):
866-226-3372; 830-370-7648;
banderaelectric.com
.
Service Area Map
. Nearest service office: HQ & Local Service Office: 3172 Hwy 16 N, Bandera, TX 78003. Serves: Bandera, Camp Verde, Medina, Medina Lake, Pipe Creek, Tarpley, Turtle Creek
HILL COUNTRY-WIDE UTILITY PROVIDERS:
For Hill Country area
utility service providers
(electric, gas, water, sewer, trash),
telecom providers
(land lines, cellular service, TV, internet), and related services (package delivery, newspaper, etc.), click:
Utilities & Telecom

SANDY ROAD GUEST HAUS: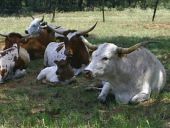 Upscale Western-style Guest House Lodging
in a Beautiful Ranch Setting in the Gorgeous Texas Hill Country

Reservations & Information: 281-300-7177
9242 RR 1320 (Sandy Road), Johnson City, TX 78636

Web: SandyRoadGuestHaus.com Email: info@SandyRoadGuestHaus.com

Come Relax & Enjoy!


---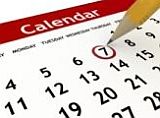 Click
for Hill Country:
»
ACTIVITIES
»
ATTRACTIONS
»
ADVENTURES
»
MARKET DAYS
»
MAPS
---

---
Check us out on


---

---

---
Texas Walks . .
What's Raised Here,
Stays Here! 100% local!!
5 locations in
Central Texas
September and October.
Corporate sponsorship
& team/individual
registrations now available.
---
---
Affordable Pre-paid Emergency Air Transport Service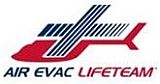 Click image for details
Protection starts at $65/yr
---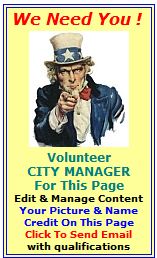 ---

Protect Your Computer Files With


On-Line storage
of your data.

Easy!

Just click
to get started.


---
---

---