Click for Free
Calendar
Event Submission
---
Click here for your



basic Portal listing!
---

---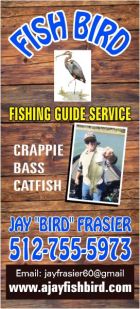 ---
COFRAN'S PC &
TECHNOLOGY HELP
- - -
Online, Remote
Tech Support &
Call-In Help Desk

Virus? Frustrated?
PC slowed down?
We can tune it up!
Internet, Wi-Fi,
Websites,
Email, Outlook,
Social Media,
Tech Marketing,
Excel, Quickbooks,
Zoom, TeamViewer,
Carbonite
** PC Repairs **

BSEE, MBA, xCPA
Veteran, Tech Officer

281-300-7177
Johnson City
info@cofran.com
www.cofran.com
---
"The Web Guy"
WEB SITE DESIGN
& MAINTENANCE
Economical
& Effective
281-300-7177
Johnson City, TX
info@cofran.com
cofran.com


---

"Business Coach"

COST CONTROLS,
EFFICIENCY &
BETTER STRATEGIES
= MORE PROFIT !!

Economical
& Effective

281-300-7177
Johnson City, TX

info@cofran.com
cofran.com


---
---

---
Cofran's Texas . . .
Hill Country Portal
A Powerful Information Database & Gateway Service for the Texas Hill Country
Use above MENU To Find "All Things In The Texas Hill Country"

City Profile For:
BANDERA, Texas
Pronounced: "BAN-dare-ah"
"The Cowboy Capital of the World"
Population (2015e): 877COL Index (2008): 80.1
Elevation: 1,258 ftArea: 1.2 smCounty:
Bandera
Zip Code: 78003Area Code: 830Time Zone: CST
Coordinates: 29° 43' 33" N, 99° 4' 30" W
Location: 40 mi NW of
San Antonio
; 25 mi SW of
Boerne
;
25 mi S of
Kerrville
; 13 mi SE of
Medina
Highways: TX-16, TX-173Creeks: Rivers: MedinaLakes: Hiawatha
Quick Link To: Directory Listings in Bandera
BACKGROUND INFORMATION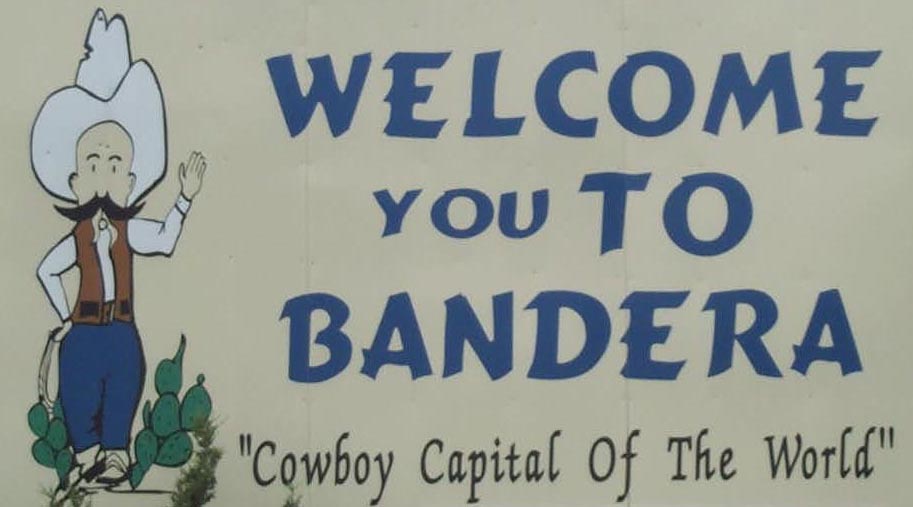 CITY:
CHAMBER, TOURISM & ECONOMIC DEVELOPMENT:
NEIGHBORING TOWNS:
Boerne
,
Camp Verde
,
Pipe Creek
,
Tarpley
,
Medina
,
Medina Lake Area
PRINCIPAL BUSINESS:
Ranching, tourism, dude ranches and camps, motorcycling
MAJOR ATTRACTIONS:
See full details in
Directory
below.
Bandera Music History Project Hall Of Fame Project: Project has produced a computer "juke box" of Bandera area musician's music from the old to the current. The goal of the project is to maintain, preserve, and promote Bandera's rich heritage of all types of music. The "juke box" is located in the Kronkosky Library of Bandera County on Main Street Bandera. No Charge.
Cowboy Capital: Bandera goes all out with cowboy festivals, events and even cowboy actors on the downtown streets dressed as they did in the old dusty days (complete with six-shooters and real horses), who mingle with the visitors on the streets and in the saloons and venues. With the live entertainment and open concept, this town is so much fun that it is very popular with motorcyclists and every tourist. Ye-Haa!
Dude Ranches & Horseback Riding: Texas Travel Video. Hitch a hayride to breakfast, rustle up some grub and live the cowboy life. See full list at Dude, and Horse Riding
Golf Courses: Flying L Golf Course; Lost Valley Resort Ranch Golf Course. See Golf
Frontier Times Museum: 830-796-3864; frontiertimesmuseum.com
Outdoor Recreation: See our Portal focus pages on: Hunting & Fishing, Tubing & Paddling, Motorcycling
Polly's Chapel: Built in 1882 by Jose Policarpo Rodriguez, this picturesque church still stands in the tree-covered hills of Bandera County on Privilege Creek. Rodriguez, known as "Polly," was born in Mexico and came to Texas with his father as a child. He became famous as a scout for the U.S. Army, a guide, a hunter and a minister. He joined the Methodist Church and was licensed as a Methodist preacher. He built this tiny chapel with his own hands. A short distance from the chapel is a well-tended graveyard where Polly is buried. Chapel usually open. Off TX-16 about 6 mi SE of town.
Scenic Drives: On all the roads around beautiful Bandera
NEARBY & HILL COUNTRY-WIDE ATTRACTIONS:
See
Attractions
Some of the very nearby attractions include:
PARKS:
There are many state parks in the greater area as profiled on the
Parks
page. These nearby parks include:
Local parks include: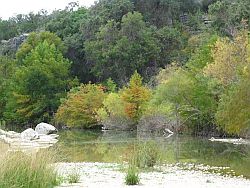 Bandera City Park: 1102 Maple St
Hill Country State Natural Area: Opened in 1983, this remains as an undeveloped and secluded retreat. Approximately 40 mi of multi-use trails wind up grassy valleys, cross spring-fed streams, and climb steep limestone hills. Backcountry setting for activities such as primitive camping, backpacking, mountain biking, hiking, horseback riding, flora and fauna observation, and limited swimming (3 designated swimming areas are on West Verde Creek). Moderate fishing opportunities. Various adjacent ranches offer horse rentals, tours, and other accommodations through the Natural Area. For information call Bandera County Convention and Visitors bureau: 800-364-3883; banderacowboycapital.com. 830-796-4413; At 10600 Bandera Creek Rd, Bandera
Mansfield Park: TX-16, just W of downtown
EVENT CALENDAR:
Year:
banderatex.com/index.php?option=com_jcalpro&Itemid=63
,
EVENT SUMMARY:
banderatex.com
Jan: Cowgirl Round-up And Show-deo
Jan: Bandera County Junior Livestock Show
Jan: Bandera Winter Bullriding Series
Feb: Bandera Cowboy Mardi Gras Weekend
Mar: Wild Hog Explosion
Apr: Bandera Spring Fling
Apr: Ranch Heritage Weekend
May: St Stanislaus Parish Festival
May: Arts & Crafts Show
May: Lakeshore Volunteer Fire Department Spring Fest
May: PRCA Pro Rodeo & Frontier Days Parade: Memorial Day weekend, Mansfield Park. "Get Your Cook-on" Bbq Cook-off: Sat, with performances at 8p all 3 nights. banderarodeo.com. Events include bull riding, barrel racing, bareback riding and more! Activities for the kids include mutton bustin', calf scramble and stick-horse races.
Jun: Bandera Riverfest
Jul: July 4th Pet Parade; National Day Of The American Cowboy (late July)
Sep: Celebrate Bandera; Cajun Festival & Great Gumbo Cook-off
Nov: Hunters BBQ & Outdoor Expo; County Christmas Ball
Nov: Bandera Honors Veterans (parade, lunch, ceremony)
Dec: Cowboy Capital Christmas & Shopper's Jubilee
On-going Events:

1st Tue, Cowboy Capital Opry, at Silver Sage Corral, 830-796-4969; silversagecorral.org. Nov-Apr. Professional entertainers volunteer their performances for charity
Every Thur, Bandera Farmers Market, 830-460-1271; The Sage Gardens Farmer's Market is located in front of Sid's Main Street BBQ at 702 Main Street. banderafarmersmarket.org. Local vendors are offering free-range eggs, baked goods, honey products, goat's milk skin-care products and a variety of cool weather produce including herbs, kale, lettuce and more. Thurs mornings 8-11a, during Fall/Winter months, and in the spring the market returns to Thurs & Sat. See facebook page for updates: Bandera Farmers Market
4th Fri, Jam Session: 6:30p, at Silver Sage Coral. silversagecorral.org. 830-796-4969. Nov-April. Come play or listen
Every Sat, Rodeo, at 2E Twin Elm Guest Ranch, 8p, at 810 FM 470. Verify schedule at 830-796-3628. twinelmranch.com
Every Sat, Cowboys On Main, In front of Courthouse, 500 Main St. 1-4p. Western display, strolling musicians on Main St, free, banderacowboycapital.com
Every 2nd Sat, Flea Market, at American Legion, 9a-4p
>Most Sat, Gunfight Re-enactments: Bandera Cattle Company, at Bandera Visitors Center, most Saturdays at Noon and 2p. 830-796-3045. Web
Every 2nd Sun, Cowboy Camp, at Frontier Times Museum; 1-4p, weather permitting, outside. Cowboy music jam. Free. 830-328-0321. frontiertimesmuseum.org
For full details on these and nearby events see
Festivals & Major Events
,
Trade Days & Farmers Markets
,
Live Entertainment
, and calendars on our other focus topic pages accessible from the menu above.
WEATHER:
Local Weather
;
Hill Country-wide Weather
MEDIA COVERAGE:
See full details in
Directory
below.
MAPS:
Local Google
;
Hill Country Special Maps
HISTORY:
Handbook of Texas Online
:
"A townsite plat for the settlement, designated county seat at the formation of Bandera County in 1856, was filed with the first county commissioners' court that year by John James, Charles DeMontel, and John Herndon. The site, on a cypress-lined bend of the Medina River, had been occupied by Indians, then by white campers making shingles. The town and county were named for nearby Bandera Pass. The founders formed a partnership in 1853 to build a town and water-powered lumber mill. They recruited immigrant workers from Upper Silesia by way of the Polish colony in Karnes County. These workers arrived in 1855, and each family received purchase rights to town lots and farmland.

The presence of the United States Cavalry at Camp Verde after 1856 encouraged increased activity and settlement. Bandera served the needs of the military and of settlers who took up small holdings in the area. After the Civil War the town boomed as a staging area for cattle drives up the Western Trail. Farm boys became cowboys. Ranchers built holding pens and signed on as trail bosses. Storekeepers contracted as outfitters. Cotton was a commercial crop during this period. An ornate courthouse begun in 1890 announced prosperity from the town square. For local stockraisers, sheep and goats proved more profitable on the shallow limestone soil than cattle, but not until 1920 did the Bandera County Ranchers and Farmers Association organize cooperative storage and marketing of wool and mohair.

The local economy declined after 1900; a series of floods destroyed sawmills, gins, and businesses, and the cattle drives ceased. Until the San Antonio highway was constructed in 1936 Bandera remained relatively inaccessible. Other roads remained unpaved as late as the 1950s.

In 1920 Cora and Ed Buck began taking summer boarders at their ranch on Julian Creek. Other families soon advertised for guests, and by the 1930s Bandera had become well known as a resort offering riverside camps, restaurants, dance halls, and rodeos to complement surrounding dude ranches.

Bandera was incorporated in 1964. A Medina River flood in 1978 caused heavy loss of life and property and emphasized the necessity for strict control of the floodplain. In 1988 state and city officials joined in proposing that most of the floodplain within the city be made open parkland. Although Bandera County's population almost doubled after 1970, the population of Bandera has varied little; it has remained in the range of 1,000 since 1928. In 1988 the town had a population of 1,012 and seventy rated businesses, including crafts stores, medical and veterinary clinics, a sawmill, a weekly newspaper, the county library, seven churches, and the Frontier Times Museum. Bandera offers opportunities for tourism, camping, horse racing, and dude ranching. The population was 877 in 1990 and grew to 957 in 2000."
Per legend, the town was named for nearby Bandera Pass; others say it is named after a Mexican general.
Background Article:
Bandera
PRIOR CITY NAMES:
HISTORICAL MARKERS:
See Texas Historical Commission's Historic Sites Atlas:
atlas.thc.state.tx.us
. Includes interactive map plus detailed descriptions of historical markers, cemeteries, museums, all searchable by county.
CEMETERIES:
See THC Historic Sites Atlas above.
AVAILABLE SERVICES:
Gas: yes; Convenience Stores: yes; Restaurants: yes; Lodging: yes; Grocery Stores: yes; Banks: yes; Vehicle Repair: yes; Hospital: no; Med Clinic: no; Post Office: yes; Public Schools: yes; Cemetery: yes
OTHER PROFILES:
City Data
;
ePodunk
;
Texas Escapes
;
Travel Texas
;
Wikipedia
NOTES:
We welcome inquiries, comments and submission of updates, additions, corrections
& digital photos, without compensation. Send to:
editor@HillCountryPortal.com
BUSINESS & ORGANIZATION DIRECTORY
Click:
Bandera Listings
Back To >> TOP OF PAGE & MAIN INDEX

SANDY ROAD GUEST HAUS: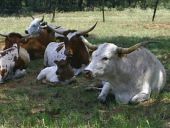 Upscale Western-style Guest House Lodging
in a Beautiful Ranch Setting in the Gorgeous Texas Hill Country

Reservations & Information: 281-300-7177
9242 RR 1320 (Sandy Road), Johnson City, TX 78636

Web: SandyRoadGuestHaus.com Email: info@SandyRoadGuestHaus.com

Come Relax & Enjoy!


---
Back To >> TOP OF PAGE & MAIN INDEX
---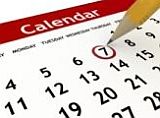 Click
for Hill Country:
»
FESTIVALS/MAJOR EVENTS
»
LIVE ENTERTAINMENT
»
MAPS
---

---
Check us out on


---

---

---
Texas Walks . .
What's Raised Here,
Stays Here! 100% local!!
5 locations in
Central Texas
September and October.
Corporate sponsorship
& team/individual
registrations now available.
---
---
Affordable Pre-paid Emergency Air Transport Service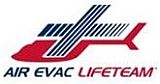 Click image for details
Protection starts at $65/yr
---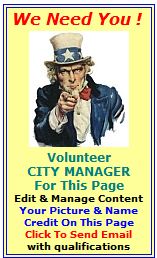 ---

Protect Your Computer Files With


On-Line storage
of your data.

Easy!

Just click
to get started.


---
---

---