Click for Free
Calendar
Event Submission
---
Click here for your



basic Portal listing!
---

---
LOKKEN FINANCIAL SERVICES
Wes Lokken,
MBA, Owner



830-868-2492
603 West Main Street
Johnson City
lokkenfinancialservices.com
wesalokken@gmail.com
Over 25 years experience. Serving Blanco County and surrounding area. Local, accurate, economical service. Tax problems? I can help. Registered IRS Taxpayer Rep
Stop by for introductory consultation
---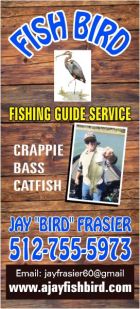 ---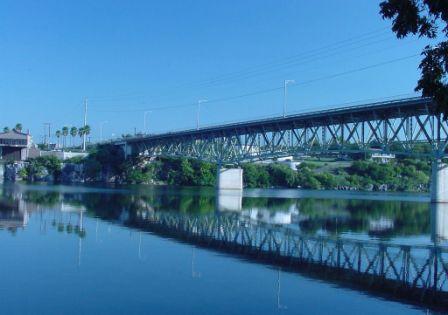 ---

---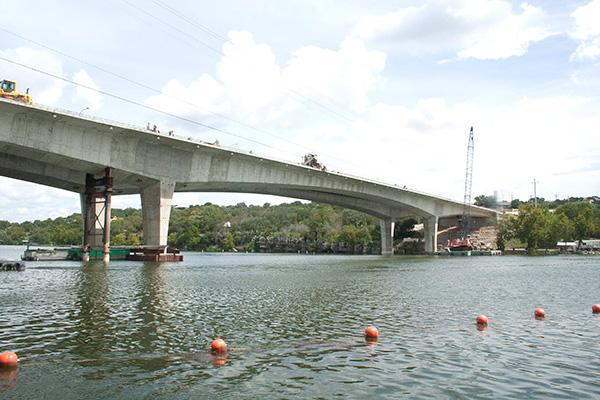 ---
COFRAN'S PC &
TECHNOLOGY HELP
- - -
Online, Remote
Tech Support &
Call-In Help Desk

Virus? Frustrated?
PC slowed down?
We can tune it up!
Internet, Wi-Fi,
Websites,
Email, Outlook,
Social Media,
Tech Marketing,
Excel, Quickbooks,
Zoom, TeamViewer,
Carbonite
** PC Repairs **

BSEE, MBA, xCPA
Veteran, Tech Officer

281-300-7177
Johnson City
info@cofran.com
www.cofran.com
---
"The Web Guy"
WEB SITE DESIGN
& MAINTENANCE
Economical
& Effective
281-300-7177
Johnson City, TX
info@cofran.com
cofran.com


---

"Business Coach"

COST CONTROLS,
EFFICIENCY &
BETTER STRATEGIES
= MORE PROFIT !!

Economical
& Effective

281-300-7177
Johnson City, TX

info@cofran.com
cofran.com


---
---

---
Cofran's Texas . . .
Hill Country Portal
A Powerful Information Database & Gateway Service for the Texas Hill Country
Use above MENU To Find "All Things In The Texas Hill Country"

City Profile For:
MARBLE FALLS, Texas
"Marble Falls... for a weekend, or a lifetime"
"Building a Better Community - Preserving the Foundation of the Past"
Population (2015): 6,281Elevation: 823 ftArea: 6.7 sm
County:
Burnet
Zip Code: 78654, 78657Area Code: 830, 693Time Zone: CST
Coordinates: 30° 34' 27" N, 98° 16' 41" W
Location: In S part of county; 48 mi NW of
Austin
, 25 mi N of
Johnson City
13 mi S of
Burnet
, 30 mi SE of
Llano
Highways: US 281, 2147, FR 1431
Creeks:Rivers: ColoradoLakes: LBJ, Marble Falls (see
Highland Lakes
)
For tax rates for county-wide taxing authorities, see
Burnet
County.
Quick Link To:
Directory Listings in Marble Falls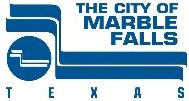 BACKGROUND INFORMATION
CITY:
City Of Marble Falls: 830-693-3615; Fax: 830-693-6737
800 Third St, Marble Falls, TX 78654
ci.marble-falls.tx.us; cmcdonald@marblefallstx.gov
CHAMBER, TOURISM & ECONOMIC DEVELOPMENT:

Marble Falls-Highland Lakes Area Chamber of Commerce:
830-693-2815
916 Second St, Marble Falls, TX 78654
marblefalls.org, information@marblefalls.org


Marble Falls/Lake LBJ Chamber Of Commerce Visitor Center:
830-693-4449
100 Ave G, Marble Falls, TX 78654
visitmarblefalls.org, info@VisitMarbleFalls.org


Marble Falls Economic Development Corporation: 830-798-7079
801 Fourth St, Marble Falls, TX 78654
marblefallseconomy.com, mdockery@marblefallseconomy.com


Marble Falls Tour Guide: 512-755-4664; A "step-on" ATGA Certified Tour Guide with years of experience offers customized tours of the Texas Hill Country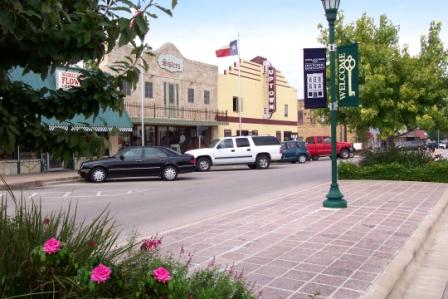 NEIGHBORING TOWNS:
Blue Lake Estates
; 5 mi NE of
Cottonwood Shores
;
Deerhaven
"; 8 mi E of
Granite Shoals
, 9 mi SE of
Highland Haven
; 7 mi NE of
Horseshoe Bay
; SE of
Kingsland
; 3 mi NE of
Meadowlakes
; N of
Round Mountain
; 6 mi S of
Suddath
; E of
Sunrise Beach
Just a little ways further out of town: 12 mi SE of
Kingsland
; 24 mi (via TX 71) E of
Sunrise Beach
; 26 mi SE of
Buchanan Dam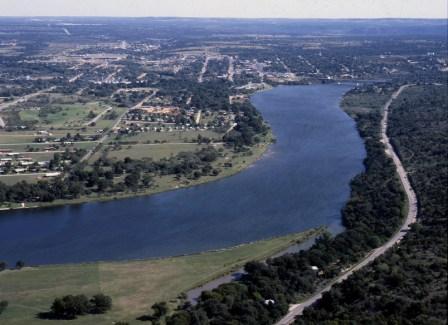 PRINCIPAL BUSINESS:
Regional economic center, tourism
MAJOR ATTRACTIONS:
See full details in
Directory
below.
Lake LBJ & Lake Marble Falls: See Highland Lakes
Historic Main Street District: historicmainstreet.org. Historic buildings brought back to life as shops, restaurants, sculpture, festivals, farmers market and a theater.
Falls On The Colorado Museum: Displays the history and culture of the Central Texas region centered in Burnet County. Artifacts, documents, photos, books and culturally important icons and memorabilia on display, as well as an area for research.
Fox Memorial Marker & Panoramic View: A monument overlooking Colorado River and scenic Hill Country is dedicated to Oscar J. Fox, composer of the classic popular song, "Hills of Home." In roadside park on US 281 just S of town S of the bridge.
Sweet Berry Farm: Pick your own strawberries and blackberries. Hay rides, horse rides, petting farm, hay mazes, fall pumpkin patch, flowers, face painting, picnic area and more. School, group and civic activities.
Marble Falls Historic Train Depot: S of Hwy 1431 on US 281 in Marble Falls. Depot is more than 100 years old.
Granite Mountain/Cold Spring Texas Granite Company: Home of "Texas Pink" granite used to build the Texas State Capitol building. The mountain can be viewed from roadside picnic areas. Visitors not admitted to quarry area, but a retail outlet is open to the public
NEARBY & HILL COUNTRY-WIDE ATTRACTIONS:
See
Attractions
. Because of the close proximity of several communities to Marble Falls, all of them surrounding Lake LBJ and Lake Marble Falls (see above list), there are many golf courses, parks and other attractions within just a few miles of Marble Falls. Some of these nearby attractions include:
PARKS: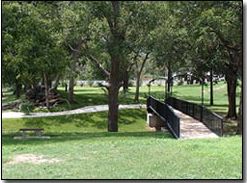 There are many state, county and LCRA parks in the greater area as profiled on the
Parks
page.
Local city parks include: (Marble Falls Parks & Rec Dept: 830-693-1769;
Web
)
(Adam) Johnson Park: 230 S Ave J, Marble Falls, TX 78654. Web. Features shade trees, covered picnic areas, playscapes, outdoor stage and restrooms. Popular for reunions and parties.
Falls Creek Park & Skatepark: 900 Yett St, Marble Falls, TX 78654. Skateboarding facility with picnic tables, BBQ pits and a canoe launch site. Web
Harmony Park: A music venue and park downtown at 800 3rd St, features 5 large permanent instruments ,with attached mallets, that you can play. Color-changing LED lights.
Lakeside Park: 307 Buena Vista Dr, Marble Falls, TX 78654. Waterfront park on Lake LBJ features a boat launch, tennis courts, swimming pool, basketball court, picnic area and ice skating rink. 1 block W of US 281 bridge. Web
Sports Parks: The Parks and Recreation Depart partners with local leagues and organizations to provide recreational and educational opportunities for all ages. The ball fields around the city offers these organizations the chance to practice their sport and host games. Includes: Johnson Park Ball Field; Greens and Rotary Fields, at 1100 6th Street; Rotary fields, at 1800 Colt Circle, Subunits #10 and #11, behind the MFISD bus barn.
Villa Vista Park: Located on Villa Vista Way (7th St) and is the City's only developed neighborhood pocket park. Web
EVENT CALENDAR:
See Chamber web site:
marblefalls.org/events
. See:
Festivals & Events
Mar-Apr: Bluebonnet Music & Fine Arts Festival, last WE
Mar: Main Street Market Day
Apr: Highland Lakes Fine Art & Wine Festival, 1st & 2nd WE, thunderbirdartists.com
Apr: Wine & Wildflowers Trail (winery tours); Citywide Garage Sale; Paint The Town
May: Howdy Roo Chili Cook-off, 1st WE; Main Street Market Day; MayFest; Marble Falls Rodeo, 3rd WE
Jun: Soapbox Classic
Jul: 4th-Fireworks in the Park; Founders Day, 2nd Sat
Aug: Fall Creek Vineyard Grape Stomp; LakeFest Drag Boat Races, 2nd WE, (marblefallslakefest.com)
Sep: Main Street Market Day, 3rd WE
Oct: Citywide Garage Sale; Moonlight Madness
Nov: Highland Arts Guild Fall Show; Walkway of Lights & Holiday Parade; Antiques & Collectibles Show
Dec: Walkway of Lights
On-going Events:

Nov-Mar: Bald Eagle Season
Every Thur-Sat: The Falls On The Colorado Museum Tours: 905 3rd St, 10a-5p. 830-798-2157. fallsmuseum.org. Tour the museum
Every 3rd Sat: Live Music: At 6-10p, at Boys & Girls Club. 830-898-1784. Bluegrass, Country & Western
2nd Sat: MF Market Days: At Rodeo Grounds, 9a-4p. 830-693-4449, quarterly (Mar, May, Sep, Nov)
Highland Lakes Farmers Market: 830-693-4458; Sat mornings and Wed afternoons
For full details on these and nearby events see
Festivals & Major Events
,
Trade Days & Farmers Markets
,
Live Entertainment
, and calendars on our other focus topic pages accessible from the menu above.
WEATHER:
Local Weather
;
Hill Country-wide Weather
MEDIA COVERAGE:
See full details in
Directory
below.
MAPS:
Local Google
;
Hill Country Special Maps
HISTORY & profiles:
Handbook of Texas Online
:
"The falls for which the town was named were used as a landmark by travelers and were referred to as the "great falls" or the "marble falls" of the Colorado River as early as 1817. Charles S. Todd made an effort to establish a town at the falls in 1854. Several lots were sold, but few people built homes there. "Todd's village" faded before it ever really got started, and Todd's land was sold for taxes in 1880. Adam Rankin Johnson saw the falls in 1854 and also wanted to build a city at the site. His project remained a dream, however, until the 1880s. Although there was some difficulty in establishing a clear title to the land, by 1886 Johnson had succeeded in buying one-half and controlling the rest of the original Baker grant, which included the falls area. The Texas Mining and Improvement Company was chartered in June 1887; Johnson and nine others were listed as owners. It handled the business of the new town for several years. Town lots were advertised for sale in July. The Austin and Northwestern Railroad built an extension to Marble Falls from Granite Mountain in 1889. A post office was also established that year with Robert Charlton as postmaster. By 1890 the community had Methodist and Baptist churches, a cotton gin, a gristmill, a tannery, a shoe factory, three general stores, a hotel, a weekly Gazette, and 400 to 600 residents.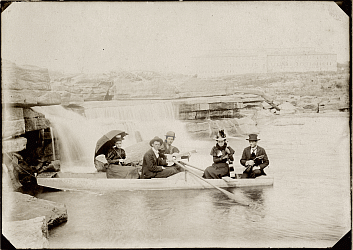 Population estimates reached 1,800 by 1896. Marble Falls Alliance University was chartered in 1892, but it was in operation only a few years; its facilities were purchased by the public schools when an independent school district was established in 1908. The first city officials were elected in 1907, when a mayor-alderman form of government was instituted. In 1917 the all-male voting population of Marble Falls elected Orphelia (Birdie) Crosby Harwood the first woman mayor in the United States. Some improvements to the city, such as paved streets and electric street lights came in the late 1920s; others, such as sewer systems, had to wait until after the Great Depression and World War II.

The potential of the Colorado River falls as a source of power was seen by Johnson when he first arrived at the site in 1854, but it was many years before his dream was actually realized. Plans were made to harness the river at the Marble Falls site in 1871; the legislature authorized the building of a dam near Marble Falls to power a milling and manufacturing establishment, but nothing came of the project. The Marble Falls Cotton and Woolen Mills Company built a factory in 1895, but was unable to raise capital to purchase necessary machinery. A dam project was begun on the Colorado River below Marble Falls in 1910, but was not completed. Finally, in 1925 a dam was built to supply electrical power to the Marble Falls Textile Mills Company; the facility was used by Insull Companies in 1935 to supply power to the Hamilton Dam project.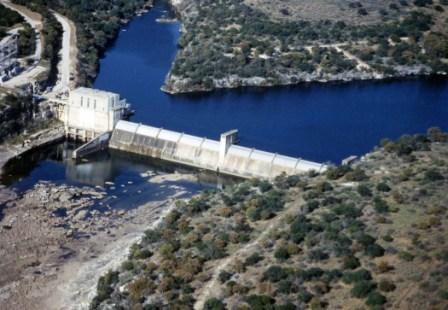 Max Starcke Dam, which formed Lake Marble Falls, was constructed in the early 1950s. Unfortunately, the natural falls were destroyed by the formation of the new lake, but the Marble Falls community benefited from the increased recreational and municipal water supply. Marble Falls served as the principal commercial center for numerous subdivisions and resorts that were built along the lakes after the 1960s. Population estimates for Marble Falls hovered around 1,000 during most of the first half of the twentieth century; after the late 1940s and early 1950s, however, the number of residents increased steadily. In 1940 the population was 1,021; by 1960 it was 2,161. As more people moved to the area to take advantage of lakeside subdivisions, the population and the supporting commercial center grew accordingly: Marble Falls had 2,209 residents and ninety-four businesses in the early 1970s, 3,252 residents and 210 businesses in the early 1980s, and an estimated 4,007 residents and 218 businesses in 1990. By 2000 the population reached 4,959 with 817 businesses."
THE FALLS: From the Falls On The Colorado Museum: From prehistoric times to 1951, the Colorado River plunged over the falls at this location on its romp to the Gulf of Mexico. The falls, just upriver from the present Hwy 281 bridge, were covered by the waters of Lake Marble Falls after Max Starcke Dam was built in 1951.
The geological formation of the falls is a transitional state between limestone and marble. To early settlers, the interior of the rock, a hard cherty, looked like marble - hence the name Marble Falls.

When the LCRA lowers the lake level, the falls can still be seen, although partially obliterated by silt. Photographs in the FOCM historic collection show many views of the river, the falls, and the part they played in the lives of area citizens before 1951.
DEAD MAN'S HOLE: (by Mike Cox in Texas Escapes):
"The expression 'he just dropped out of sight' had both figurative and literal meaning in Burnet County during and after the Civil War. Common belief held that folks who disappeared in that area often ended up at the bottom of a 150-plus-deep foot limestone fissure south of Marble Falls aptly named 'Dead Man's Hole.' "
. Discovered in 1821, this 155 foot deep cave is believed to have been the dumping place for victims hung from an oak tree over the hole. Self-guided tour, always open. SE of Marble Falls, nearer Spicewood, on CR 401 between Hwy 71 and FM 2147 E.
PRIOR CITY NAMES:
Todd's Village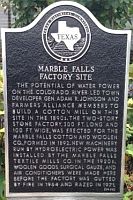 HISTORICAL MARKERS:
Fox Memorial Marker & Panoramic View: A monument overlooking Colorado River and scenic Hill Country is dedicated to Oscar J. Fox, composer of the classic popular song, "Hills of Home." Recently relocated from roadside park on US 281 just S of town, S of the bridge, now at La Quinta Inn property.
Marble Falls Factory Site: THC Marker. Original site of a cotton mill built in the 1890s by General Johnson. He and a group of entrepreneurs launched Marble Falls Cotton and Woolen Company that made textile products in this mill built on the N bank of the Colorado River where River City Grille now sits. The falls, now covered by Lake Marble Falls, are what provided the power to operate the mill.
St Frederick Baptist Church Of Renewal: 830-693-4499; 301 Ave N & 3rd St
CEMETERIES:
AVAILABLE SERVICES:
Gas: yes; Convenience Stores: yes; Restaurants: yes; Lodging: yes; Grocery Stores: yes; Banks: yes; Vehicle Repair: yes; Hospital: no; Med Clinic: yes; Post Office: yes; Public Schools: yes; Cemetery: yes
PORTAL WEB CAM GALLERY:
Marble Falls
OTHER PROFILES:
City Data
;
Texas Escapes
;
Wikipedia
NOTES:
We welcome inquiries, comments and submission of updates, additions, corrections & digital photos,
without compensation. Send to Editor at:
editor@HillCountryPortal.com
BUSINESS & ORGANIZATION DIRECTORY
Click:
Marble Falls Listings
Back To >> TOP OF PAGE & MAIN INDEX or BEGINNING OF DIRECTORY LISTINGS THIS PAGE

SANDY ROAD GUEST HAUS: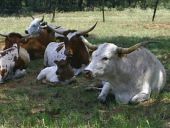 Upscale Western-style Guest House Lodging
in a Beautiful Ranch Setting in the Gorgeous Texas Hill Country

Reservations & Information: 281-300-7177
9242 RR 1320 (Sandy Road), Johnson City, TX 78636

Web: SandyRoadGuestHaus.com Email: info@SandyRoadGuestHaus.com

Come Relax & Enjoy!


---
Back To >> TOP OF PAGE & MAIN INDEX or BEGINNING OF DIRECTORY LISTINGS THIS PAGE
---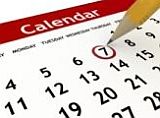 Click
for Hill Country:
»
FESTIVALS/MAJOR EVENTS
»
MAPS
---

---
Check us out on


---

---

---
Come share a piece of our world....




Family-owned winery
& vineyard operation
at a century-old
farm house,
breathtaking views
of Hill Country,
& handcrafted
Texas wines

(830) 998-7654
10352 US 290 W
Hye, Texas
williamchriswines.com
---
Affordable Pre-paid Emergency Air Transport Service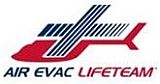 Click image for details
Protection starts at $65/yr
---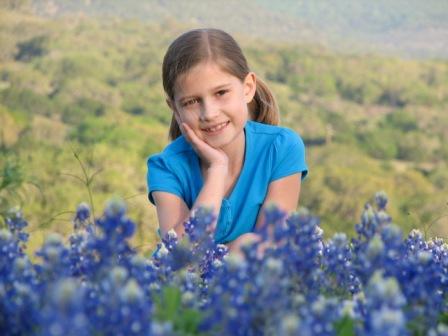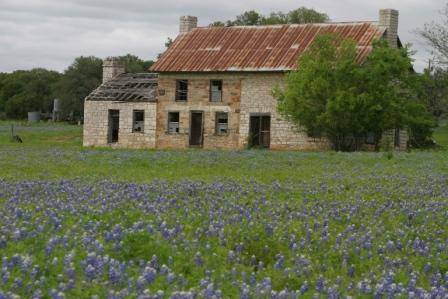 ---
Our mission statement:
"We will add value
to people
by serving with integrity,
humility & a relentless
pursuit of excellence."



2514 US 281 North,
Marble Falls
830-693-9600
wingmanoilchange.com
---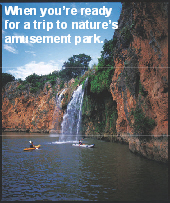 Click To Visit Burnet County
Just an hour's drive from
Austin or San Antonio
in the beautiful
Texas Hill Country
---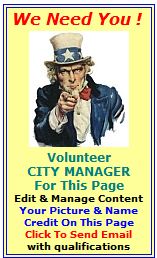 ---

Protect Your Computer Files With


On-Line storage
of your data.

Easy!

Just click
to get started.


---
---

---